Earlier this year, I enjoyed a beautiful dinner at the
The Little Door
, which is the sister restaurant that's situated alongside this café, Little Next Door. I promised myself the next time I got a chance, I would try this café and it really didn't disappoint! Both
The Little Door and Little Next Door
have quickly become two of my favorites places to eat in LA.
The boy wearing his favorite Burberry leather moto jacket.
Outfit details: Helmut Lang leather jacket, T by Alex Wang black pocket tee, vintage silk skirt, my favorite Phi boots, Alexander McQueen silk leopard scarf
Trio of deli salads: roasted quinoa, marinated baby artichokes, and green lentils
Grilled calamari salad with roasted bell peppers, shaved fennel, black olives on spinach and lemon caper dressing. This dish was so refreshingly light and perfect for a late afternoon lunch. I could see myself ordering this at least once a week if I lived close by.
Socca frites with aioli - this was surprisingly delicious! It's hard to explain what this tastes like... I thought it would be similar to chickpea fries but this was definitely different from any other french fry type side I've ever had. Apparently socca is very common in some areas of France? The waiter who was adorably so french, told me he grew up eating socca. We ended up asking for a side of harissa to use as our dipping sauce but I would highly recommend socca frites if you want to try something new!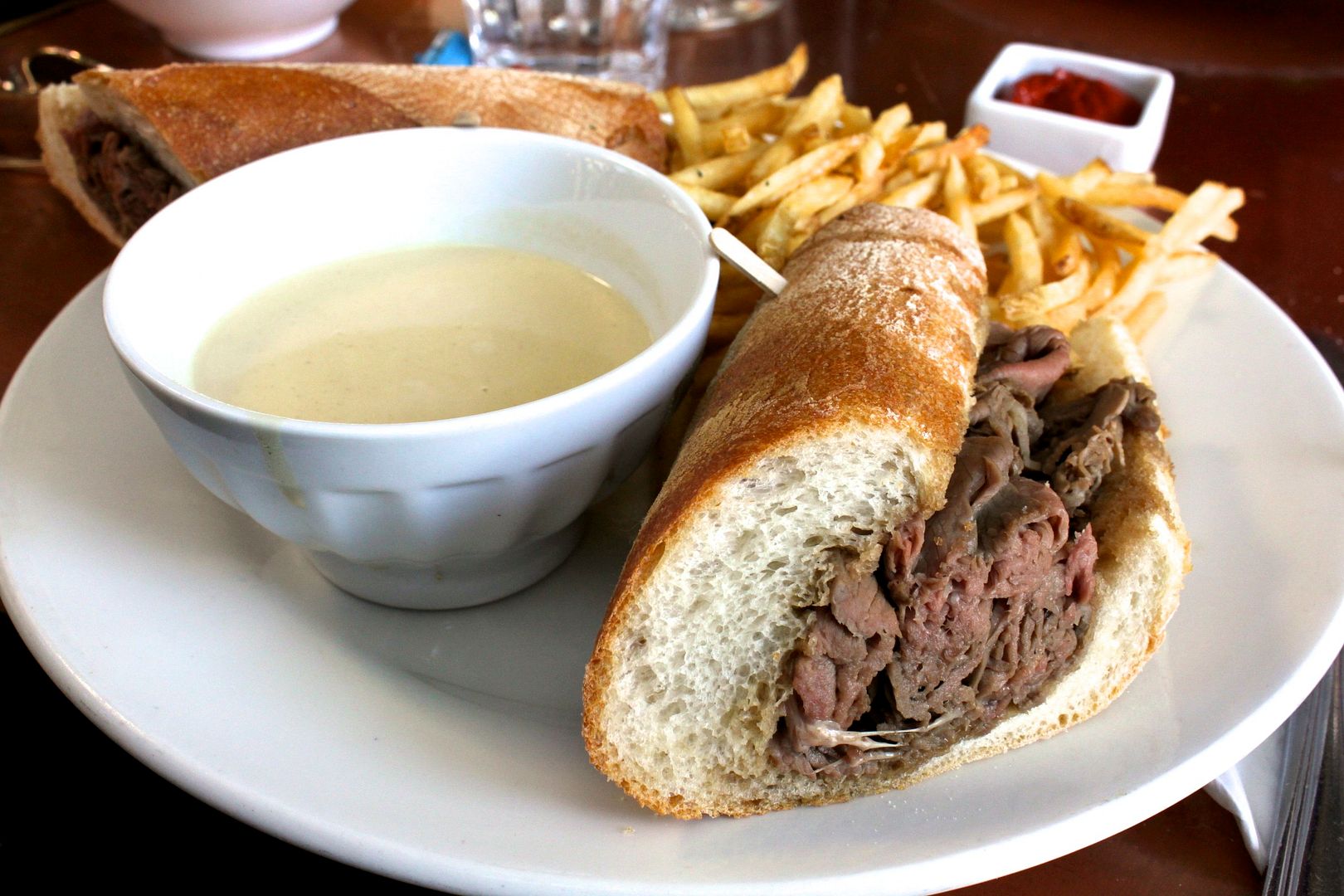 Roast beef french dip sandwich on a baguette with horseradish mustard dip. The boy loved this sandwich - usually a sandwich like this would be served with some sort of au jus but this came with a thick, tangy dipping sauce. Of course we sort of ended up dipping our socca frites in the sauce too.
Pistachio and caramel macaron
Market fresh lemon cream tart - order this! It is SO good. Light, fluffy, and decadent. Just the right way to end this meal alongside a strong latte.
Naked, you are simple as a hand,
smooth, earthy, small...transparent, round.
You have moon lines and apple paths;
Naked, you are slender as the wheat.

Naked, Cuban blue midnight is your color,
Naked, I trace the stars and vines in your hair;
Naked, you are spacious and yellow
As a summer's wholeness in a golden church.

Naked, you are tiny as your fingernail;
Subtle and curved in the rose-colored dawn
And you withdraw to the underground world

As if down a long tunnel of clothing and of chores:
your clear light dims, gets dressed, drops its leaves,
And becomes a naked hand again.

-pablo neruda