I wrote about my serendipitous run-in with the cupcake truck in a
post
a little while back and ever since that small taste I had of the deliciously cute red velvet and oreo crumb mini cupcakes, I've been craving to go back to get a proper assortment of full-sized cupcakes to dive into from the
Cupcake Stop truck
. A beautiful Saturday afternoon seemed like the perfect opportunity for such an occasion, and I used my handy Twitter application on my iPhone to track out where the Cupcake stop truck would be parked today through their
twitter feed
that let's you know their fresh flavors for the day and where they'll be parked.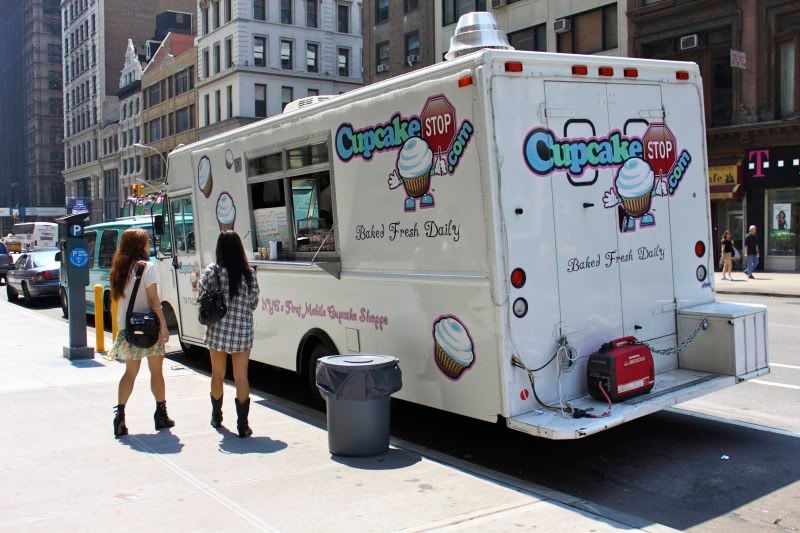 I walked over to Madison Square Park, where they're often parked (ahem what could be a more perfect dessert than a mini cupcake post-Shake Shack burger?) and was happy to see that their flavors for the day were Red Velvet, Chocolate Marble, Oreo Crumb, Sprinkle Surprise, and my personal favorite, the Elvis.
One of the best things about the Cupcake Stop is that they bake their cupcakes fresh everyday and to keep regulars happy, they offer a different daily special feature cupcake. Other popular sweet-tooth food destinations such as Momofuku for their dessert bar and Shake Shack for their custard follow similar "flavor feature" models, but the Cupcake Stop is the first I've come across in the cupcake realm that is constantly experimenting with what new flavor they can come up with next. While classics like the Red Velvet will never lose its staying power, just like a good Chanel 2.55 handbag or a pair of Converse all-stars, there's nothing like a little variety in what you expose your tastebuds to that defines my daily partaking in la joie de vivre.
Since freshness is key with all baked goods, the cupcakes they don't sell at the end of the day (which by the way, I don't believe is often since they seem to be sold out all the time!) are donated to City Harvest, NYC's much-loved food rescue program.
Assortments of today's flavors packaged and ready to be purchase and devoured!
Mini cupcakes: the Elvis + Sprinkle Surprise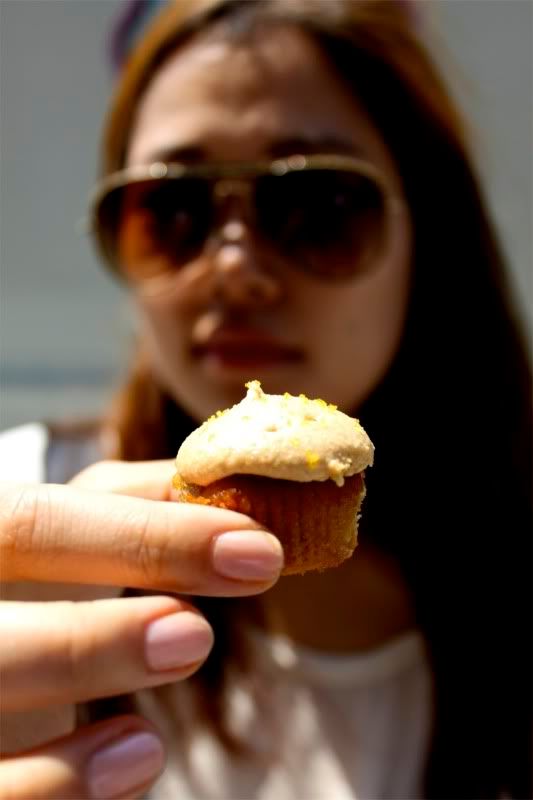 the Elvis - the king of rock and roll and apparently, now the king of cupcakes ;)
Sprinkle Surprise!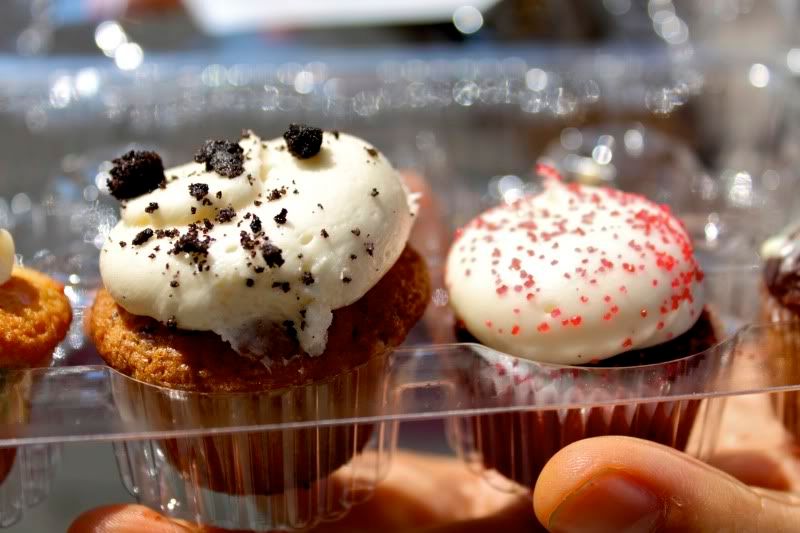 Oreo Crumb + Red Velvet - Cupcake Stop best-sellers that are always on the daily menu. I would definitely recommend both.
I wouldn't mind waking up to this every morning. Now that would redefine breakfast in bed ;)
I did manage to grab a few cards that you can trade in for one free mini cupcake from my new friends at the Cupcake Stop and would love to pass it along to any of you New Yorkers who have yet to sample one of their cupcakes! Let me know and I'll be happy to mail it to the first five people who ask. Bon appetit!!