Friday was such a beautiful day - I got out of work early and headed straight to the park with the boy and my sister, making a quick detour at Whole Foods to pick up some sushi and sparkling water. Central Park on a weekday afternoon is just amazing - lots of mommies and babies, families relaxing on big blankets. I had a great time people watching and swooning over cute children in adorable outfits. The maternal gene in me must be hidden somewhere in here...
I posted a while back that I had finally found these Phi biker boots that I've wanted for quite some time now but since it's been so warm and humid outside, I haven't had the chance to wear them out and take a picture to show you guys! I toughed it out today though and wore them out because who cares about the weather when a girl's got to break in her new boots! I first died over these boots when I saw them on Teen Vogue editor extraordinaire, Taylor Tomasi, who owns the studded version, and then re-died when I saw them on Kate Moss in that infamous
April '08 French Vogue editorial
. I thought all was lost when I missed out on getting them but lo and behold, I found them! Now that I finally have them in my possession, I'm dreaming up lots of ways to incorporate them into my fall wardrobe - I think they're an especially good buy because they're really comfortable and because they can be worn slouched down, while it's still warm outside, or worn fully up, for when it gets colder in the winter. I've been having so much great luck with shoes these days - I feel so lucky!
Speaking of shoes, I bought these special addition Jeremy Scott x Adidas sneakers for the boy a while back and I still think they're about the coolest men's shoes I've ever seen.
I bought this vintage St. John's cardigan at a random thrift store in Texas. I would really like to meet the old lady that wore this little sassy number and kept it in such pristine condition. The thing I love most about it are the buttons because of the gorgeous metal leopard detailing. Sometimes it's the little details that really sell you on a good investment piece.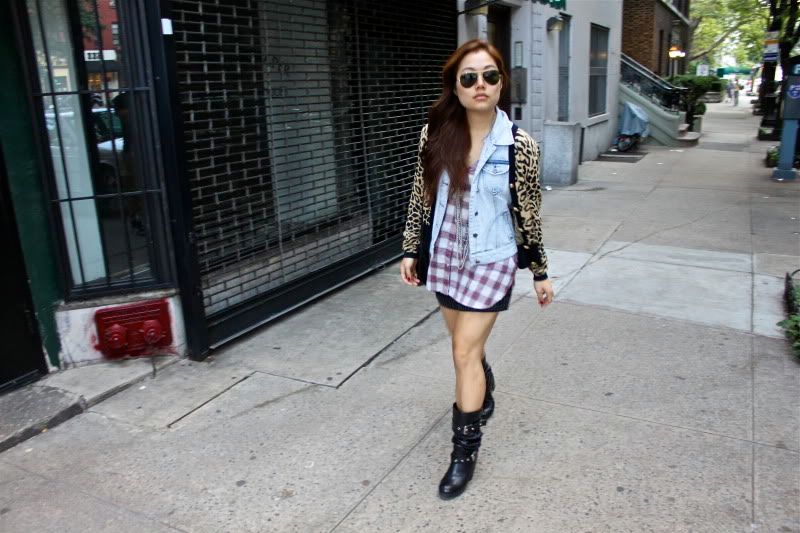 What's everyone got planned for the weekend? I just watched Julie & Julia tonight and really liked it. I mean.. a movie about food + blogging? That's me in a nutshell ;) I was salivating through the whole movie so I'd definitely recommend it to all of you guys if you're looking for something to do post-brunch! Don't watch it when you're hungry! BON APPETIT ♥