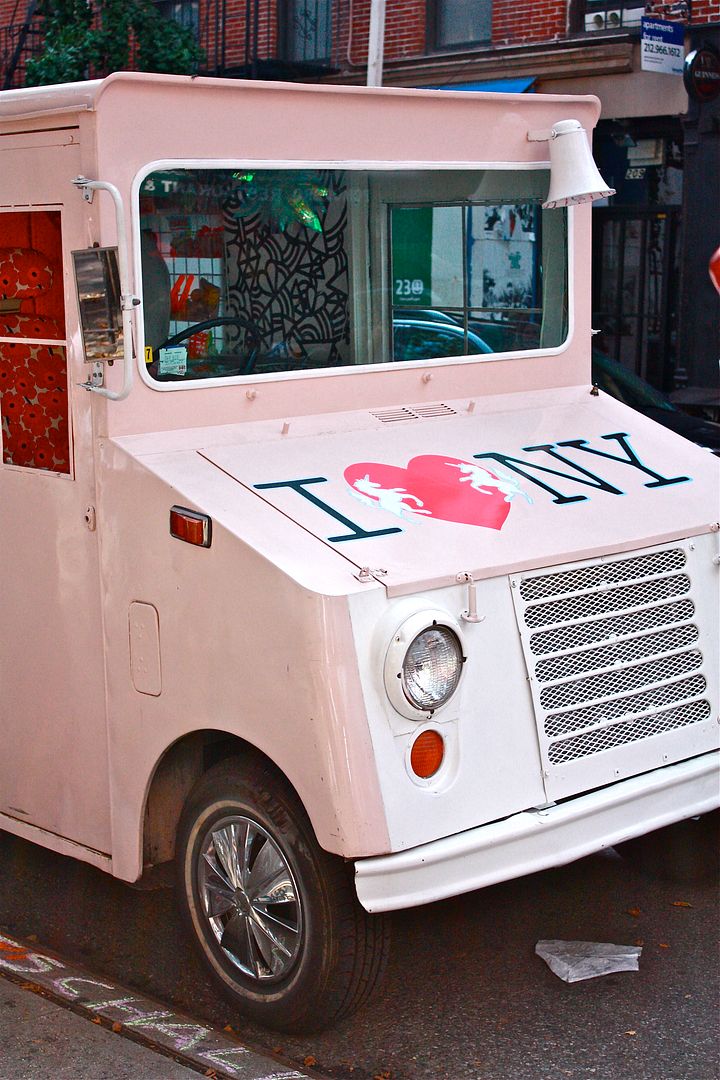 Who's with me when I say I'm SO ready for fall to come? One of the only things that's been getting me through the past couple of weeks of horrible humid weather, other than multiple cold showers per day and extra-icy iced coffees, has been the thought of fall: fall that will bring fall temperature, fall clothes, fall footwear, and the shows in September. I guess I'm really ready for change. I've decided to be really good this year and compile a list of things I am looking for to add to my fall/winter wardrobe and that's IT!
One of the first things I've gotten off this list is the perfect white button-up shirt. Of course I was looking for something a little... unique, but also very easy to wear so I don't have to complicate my life when I get up at 6:30am to get ready for work. Complication does not do well at 6:30 pre-caffeine.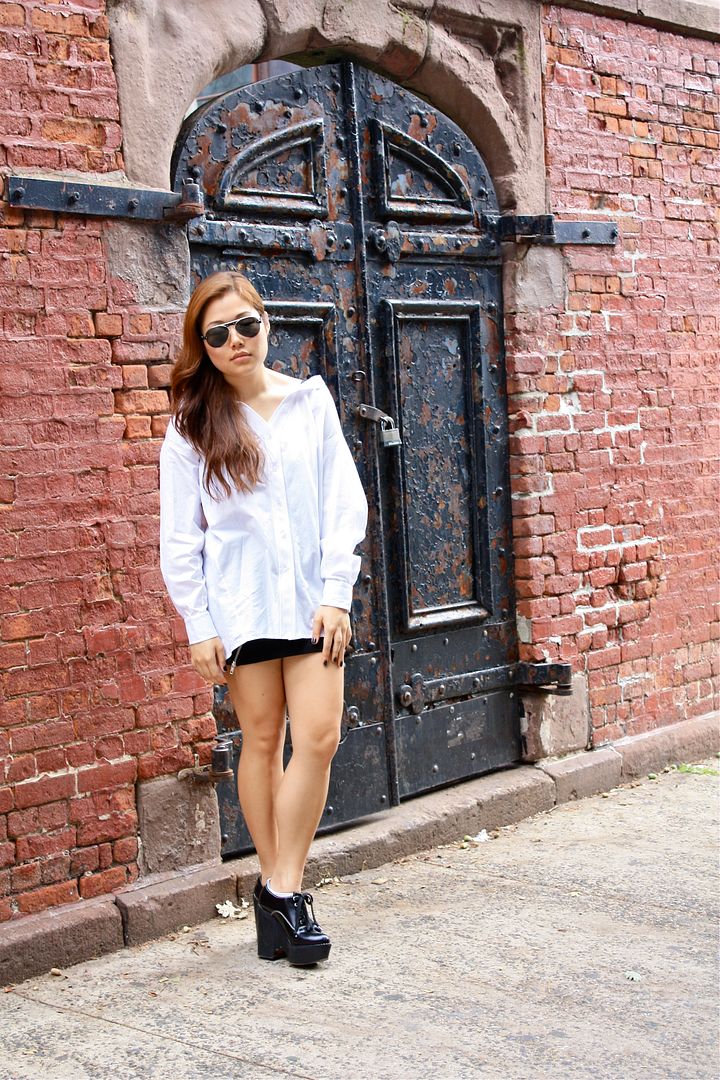 Despite how humid the weather still felt today, I decided WEATHER BE DAMNED and I wore out my new shirt for some sister time in Soho and a late afternoon birthday party at the Chelsea piers.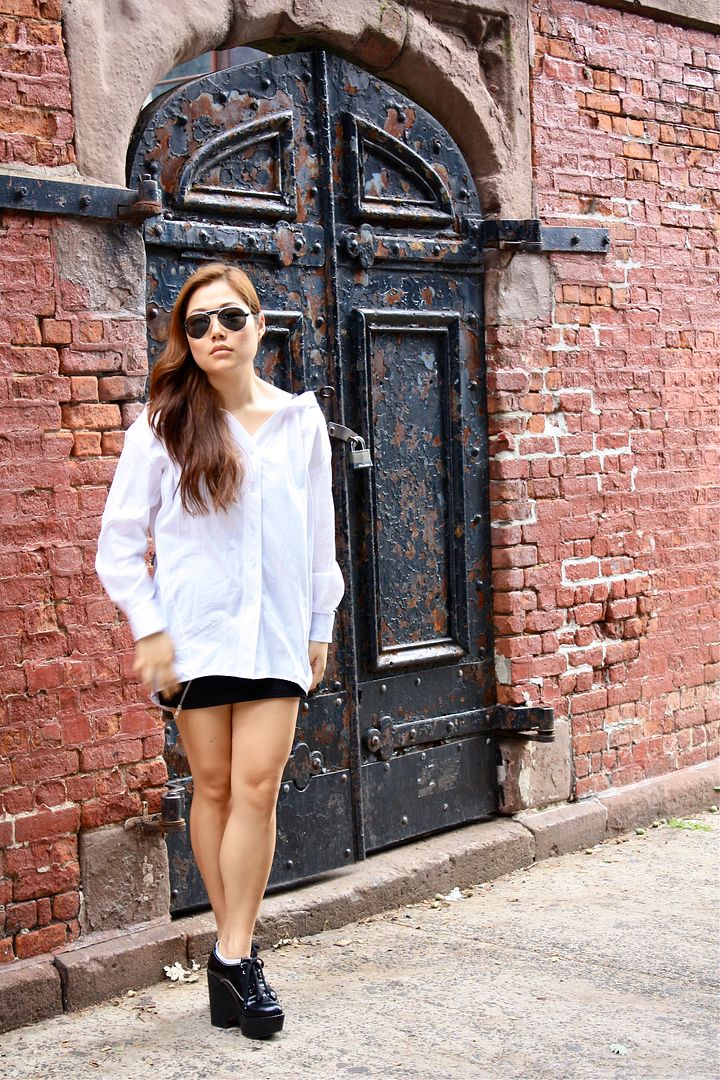 Only my dear love
Alex Wang
would think to make the most
perfect off-the-shoulder white button up
, with built in peekaboo bra straps to keep the whole top from tumbling down.
ALEX ♥♥♥
Great clothes are all in the details. Detail 1 - built in bra strap to prevent uncomfortable adjustments
Detail 2: stitch detailing at the collar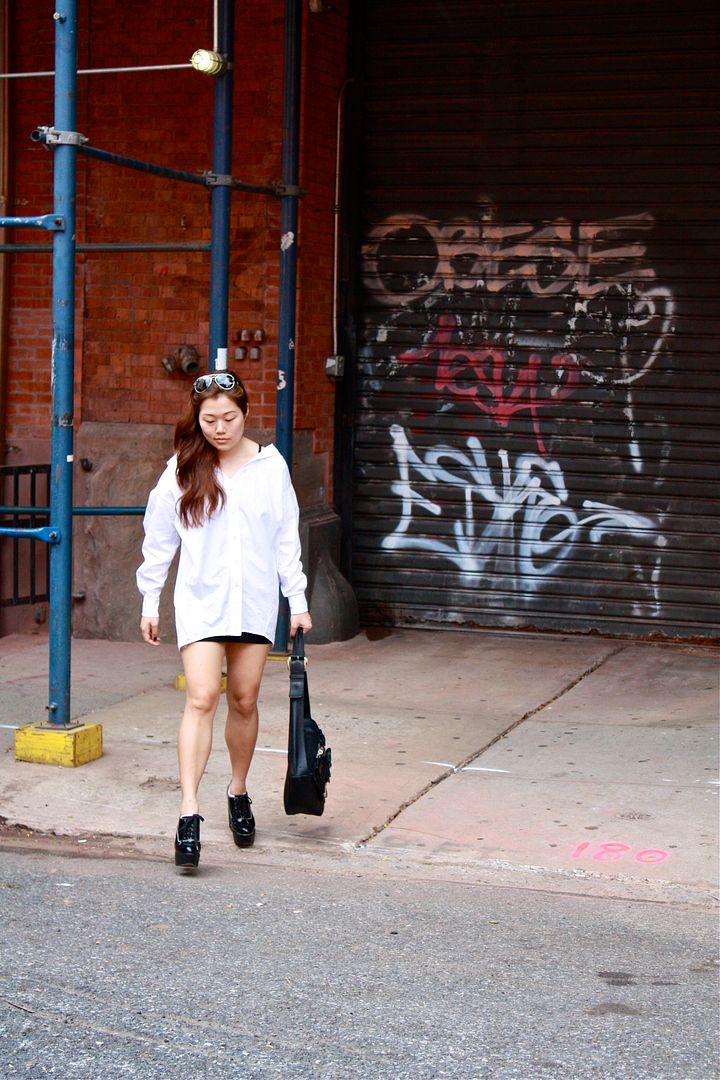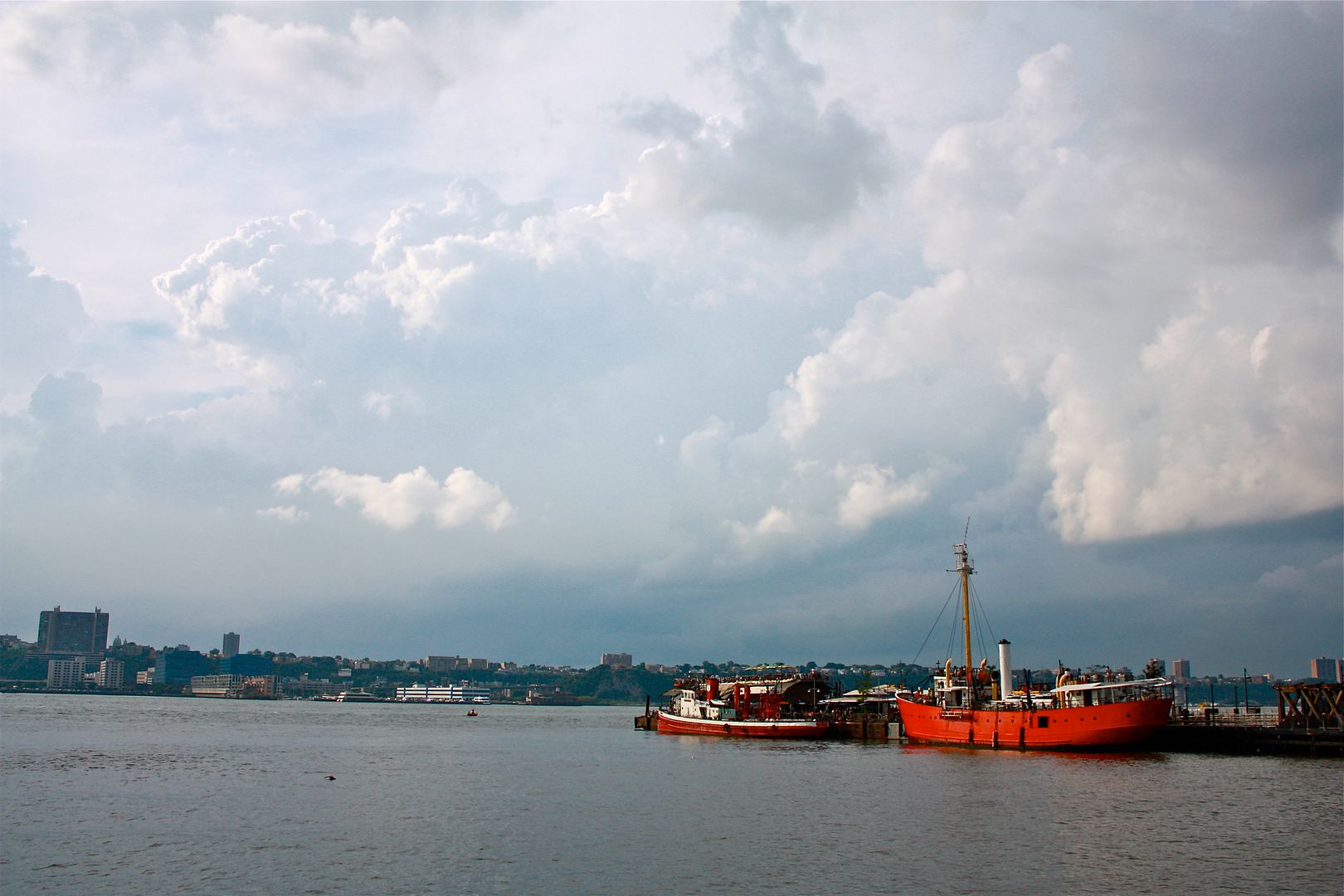 Later today, I went to the Frying Pan, which is an adorable bar on a boat docked at Chelsea Piers on West Side Highway. It's a great place to have good beer/sangria and enjoy some really tasty bar food. Also doesn't hurt that buying a drink there gives you the best seat in town to experience a beautiful NY city sunset.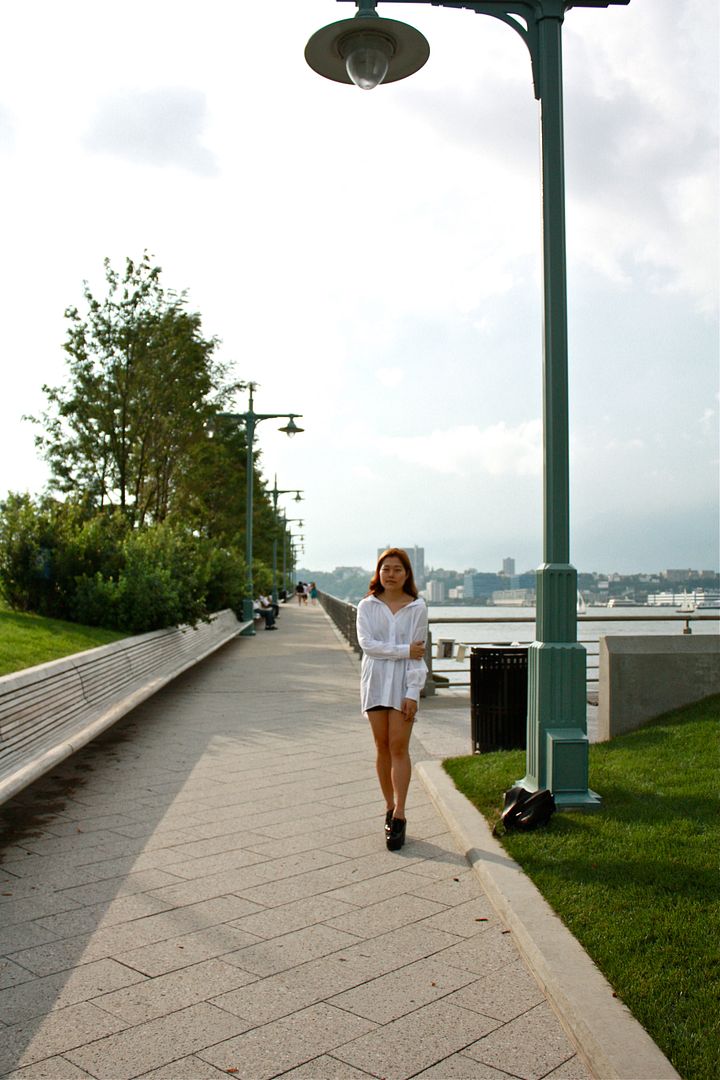 Outfit details: Alexander Wang top, H&M zipper bandage skirt, Chloé docs, Chloé saskia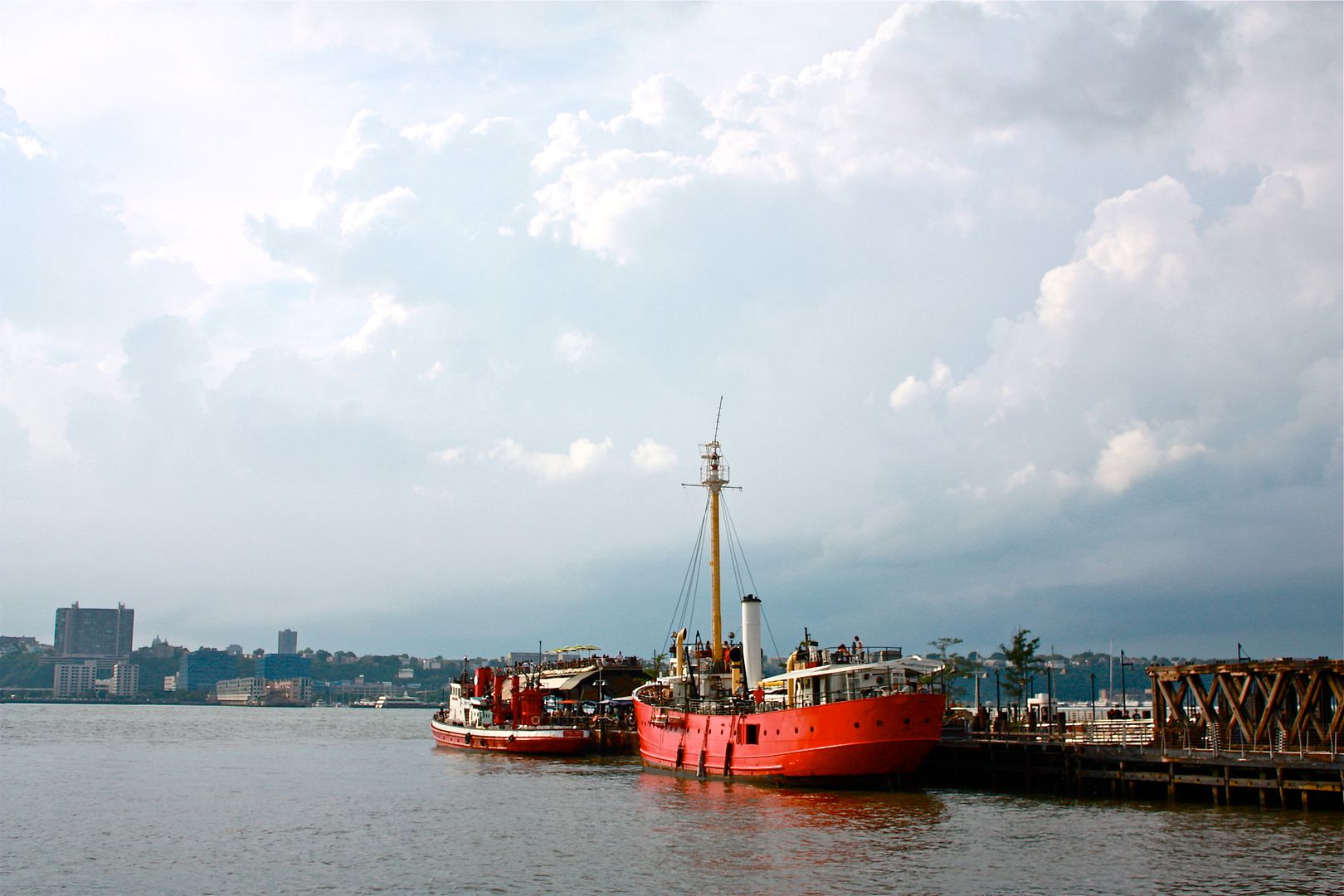 SHORT Q&A
Tagged by
stopitrightnow
What is your current obsession?
Learning to choose the healthier option in life.
What is your horoscope and do you relate?
Gemini - I don't really believe in this kind of stuff.. is that a boring answer?
What are you wearing today?
Look above!
What is the last thing you bought?
A cab ride. oh and a denim shirt (it was on my list! I promise!)
What's for dinner?
Already ate - grilled tofu and steamed kale. hm and some kettle corn while I was watching a movie.
What's your favorite decade, fashion wise?
Now. I'm not big on reflecting on the past when it comes to fashion.
What are your must haves for summer?
I've gotten a lot of use out of my shredded shirts this summer since it's been so hot. Other than that I would have to be boring and say that I'm obsessed with sunscreen - I even keep a stick of it in my bag for mid-day reapplication.
What would you love to be able to afford?
My dream brownstone in NYC and a store to call my own.
What is your favorite piece of clothing from your own wardrobe?
A really old elephant-print cotton summer dress that I sleep in. I've had to resew the buttons on this thing so many times but I can never throw it away.
What is your dream job?
Being my own boss
What's your favorite magazine?
I don't have one - I'm very fickle!! Other than the obvious choices, I've actually gotten to quite like Marie Claire these days. Must be Nina's magic touch!
What do you consider a fashion faux pas?
Not knowing your own style.
Describe your personal style?
ladylike pieces mixed with harder accessories
Which Beatle is your favorite?
Is it awful to say that I don't really care for the Beatles?
What are you proud of?
Being able to pay my own way
Some of you guys have emailed/commented me other questions I've unfortunately been unable to answer as of yet... I've been semi-wary of doing an actual Q&A post because I don't think I'd really say anything that interesting but it might turn out to be a fun project. Do you have any questions you'd like answered? If so ask away :)
Have a great week everyone!