Minetta Tavern
, like many restaurants in the city, doesn't seem like much from the outside. It's one of those places, that has been around for so long that it earned the wrinkles to prove it and in doing so, had also become somewhat invisible. That obscurity may have gone on forever, had it not been for Keith McNally and his midas touch, instituting a much-welcomed and well-reviewed revival of this 30s Greenwich Village institution.
When I read several weeks ago, that Minetta Tavern was planning on opening for weekend brunch, I was, to say the least, ecstatic. God knows that I love a good McNally brunch (and the accompanying bread basket that I always order) so I couldn't wait to see what they were going to have on the menu. I was first in line to have the MT brunch experience this opening weekend and to be succinct, all I really have to say is, I'll definitely be going back.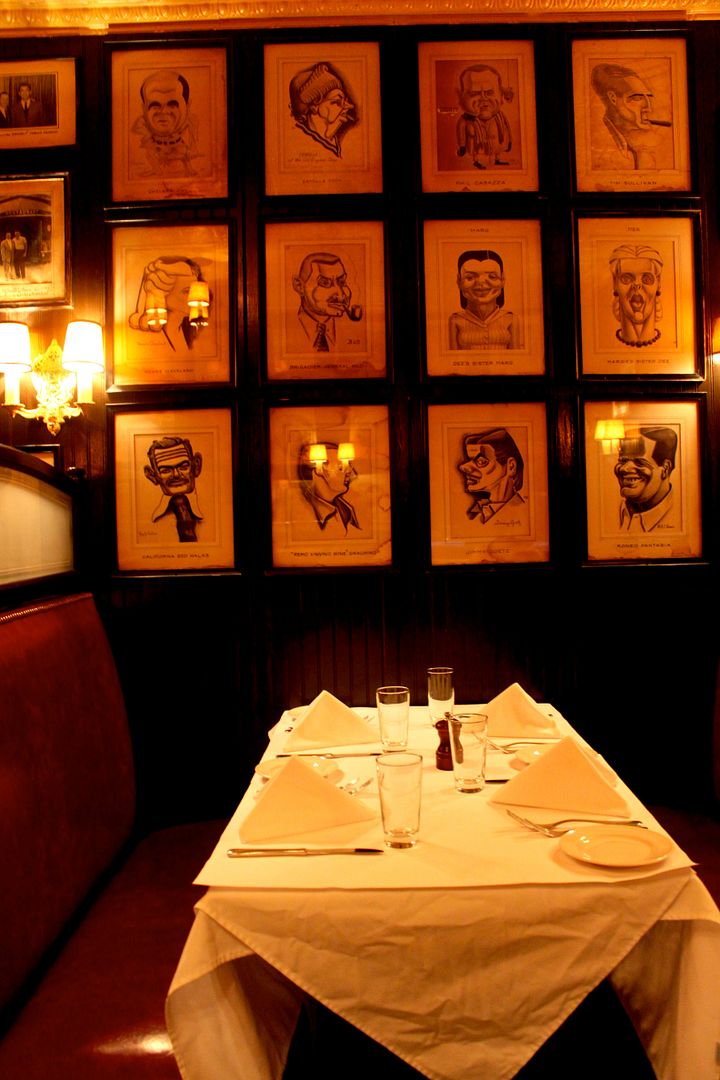 I love the bread baskets at all of Keith McNally's restaurants because who doesn't love Balthazar bakery? At each of his restaurant's brunches, the bread basket is slightly different, but this little gem in MT's bread basket really blew my tastebuds away. It was so good, that I had to order a second, totally forgetting the fact that I had an entire basket of other bread to finish.
The best part about this cannelé is that it has TWO best parts: the crunchy, caramelized exterior and the ooey, gooey, custardy center. Y-E-S to that combo any day.
While I was tempted to order the french toast, I decided on the green market omelette because I always think you can judge a lot about a restaurant by how well they season their eggs. This omelette was filled with big chunks of porcini mushrooms, fresh spinach, and was incredibly fluffy and light because of the addition of crème fraîche in the egg mixture. Oh, and it was perfectly seasoned.
The Black Label Burger - the king of all burgers in NYC. While I wasn't able to taste it, the boy who is quite the burger aficionado, has confirmed that this is the best burger he has ever had hands down. It's all in the meat folks: prime dry-aged beef topped with caramelized onions.
Although it wasn't the main attraction of the meal, the pommes frites on both of our plates were just so good and could hold their own against any other fry in the city. The ones at Balthazar really pale in comparison.
WASHINGTON SQUARE PARK
After brunch, the boy and I walked around Washington Square Park to walk off our crazy/good/food/haze and had a really great time despite the fact that it was incredibly cold this past weekend.
I wore out my favorite Miu Miu OTK black suede boots, that are surprisingly very comfortable and warm. OTK boots are such an essential for me when it gets cold because they are a really easy layering piece.
When the temperature drops below 10°F, I wear out this somewhat embarrassingly long Rick Owens alpaca scarf, that is essentially just an excuse to wrap a huge blanket around my face
☺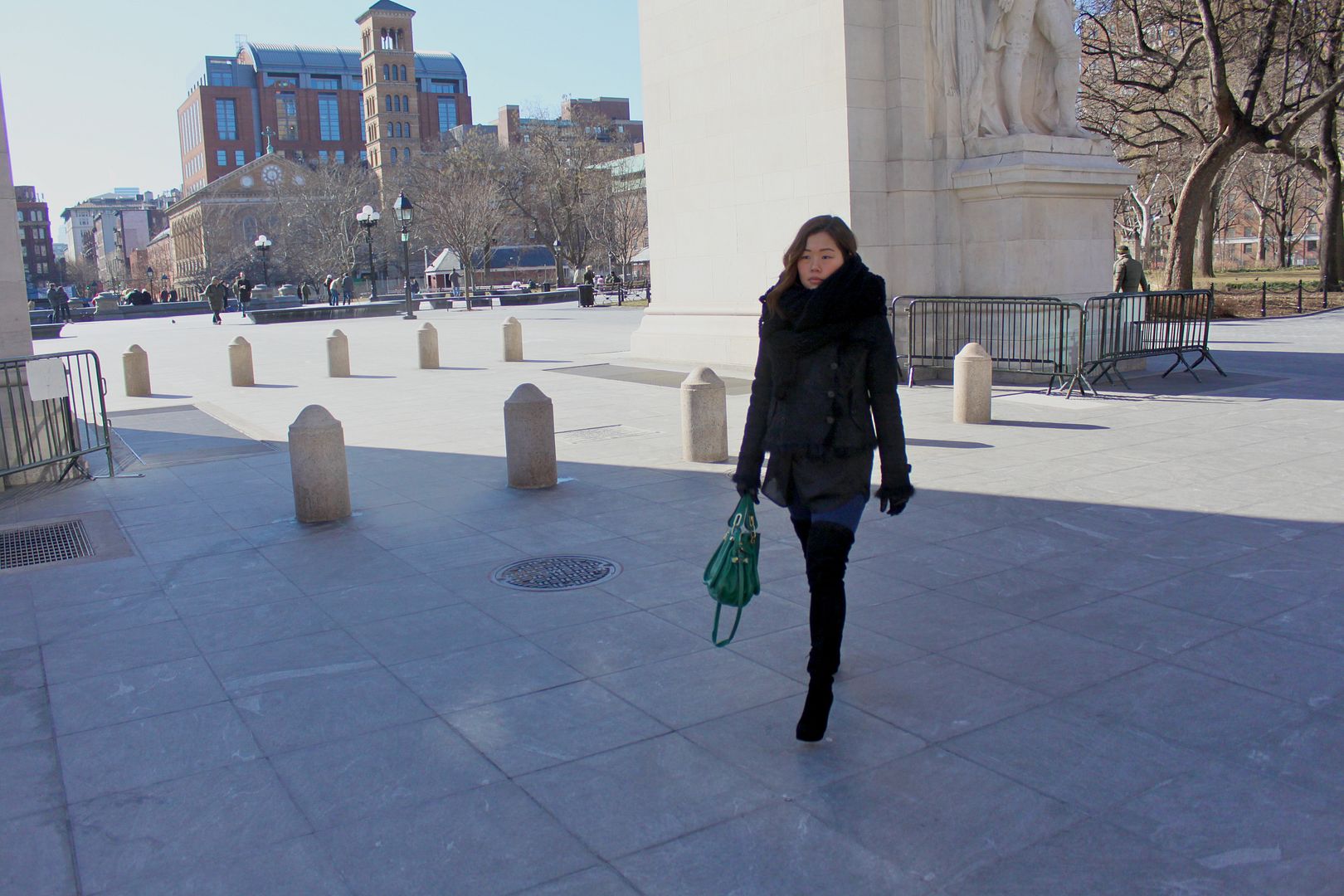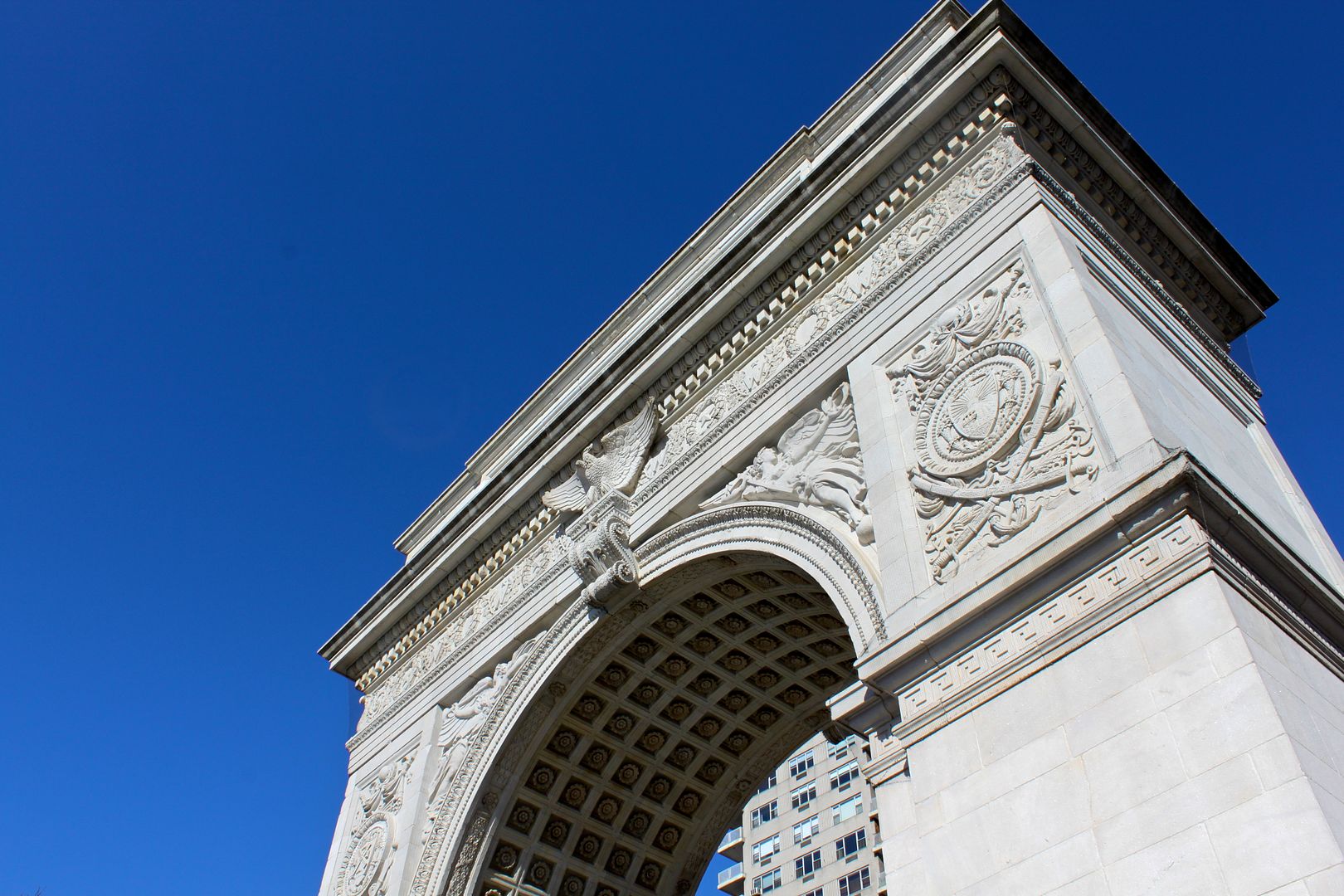 Outfit details: Burberry shearling cropped trench, Vince tunic, Topshop jeans, Rick Owens scarf, Miu Miu boots, Chloé bag