Seriously guys, I've lived in new york for years and I have never experienced prolonged weather like this. Where is the sun? Why is it so humid? Why is the weather still in the 60s? I could really use a quick beach getaway and recharge in the sun for a week. Things are a bit topsy turvy I tell you - global warming and climate change, it's happening guys :( I have a very bad feeling this is just the beginning. sigh. This really explains the slow down in posts on my end, hard to find inspiration in such drab June weather, which is normally a month that redeems New York for the horrid winters we suffer through!
These photos were taken on a day out in the meatpacking district and Chelsea, where we did a bit of browsing through the shops, had lunch at Chelsea market, and enjoyed some perusing around the art galleries in the area.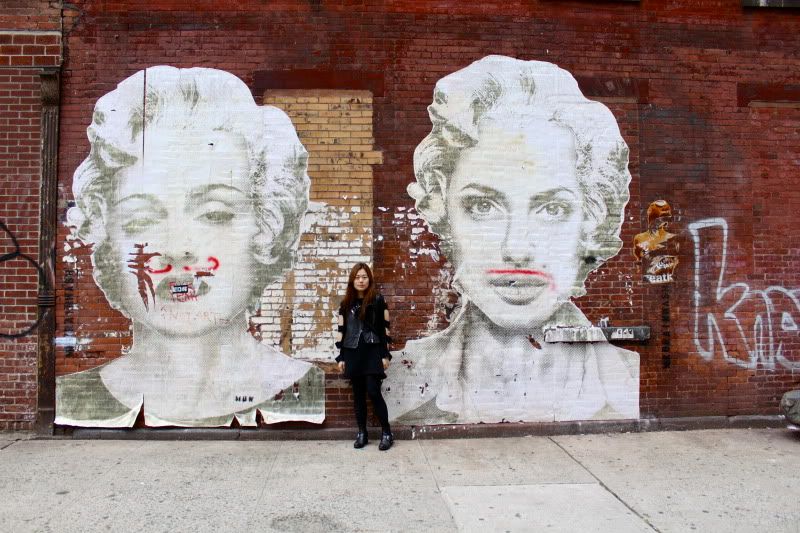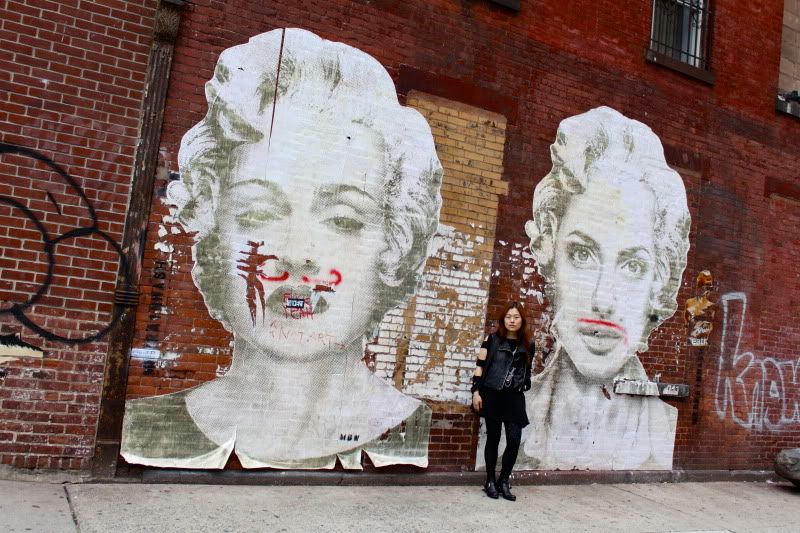 This type of wall art has been popping up all around the city - anyone know who's responsible for it? (p.s. how gorgeous is Angelina Jolie?!?)
"why hello albert!!"
we made fast friends. i always did love me some n.e.r.d.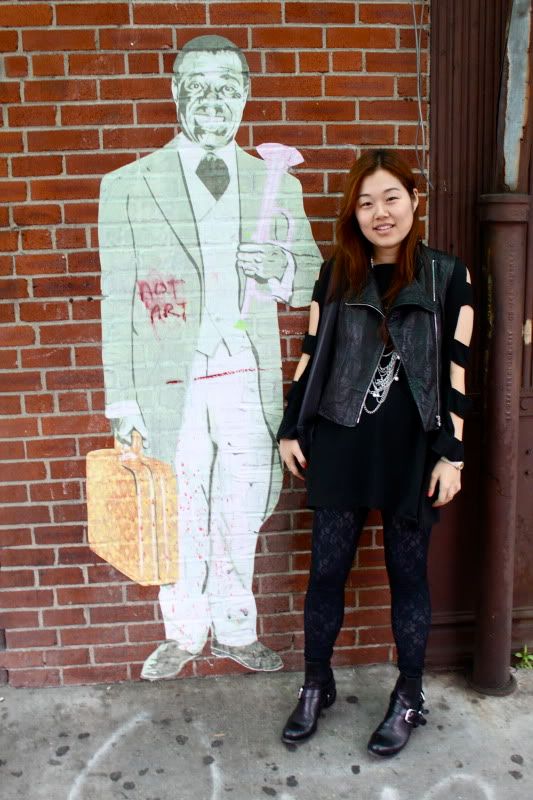 I loved how louis is carrying a louis. lol - cheeky.
Chelsea Market is what I'd like to call, a food mall, that also happens to be home to the Food Network!! You can walk all around the first floor and eat at random restaurants, bakeries, and cafes, and also do some light grocery shopping at specialty food stores.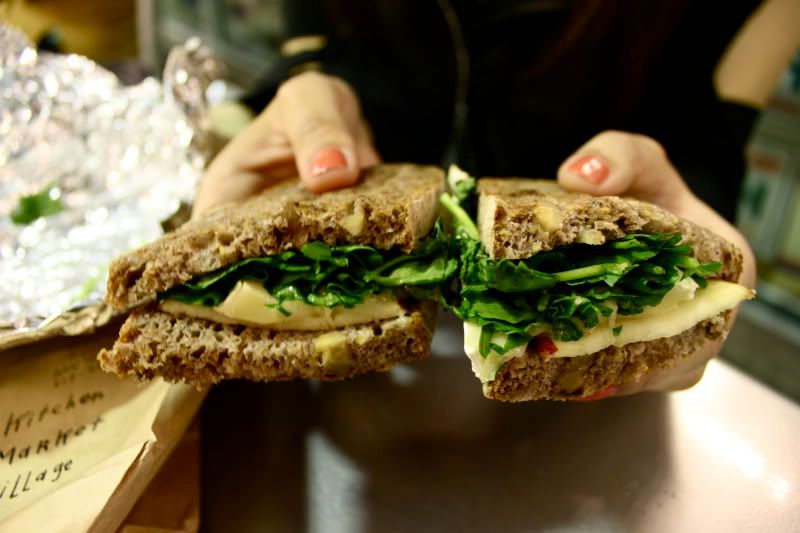 We came here to have lunch and I picked up a sandwich at Amy's Bread. Brie and apples on walnut bread. So yummy.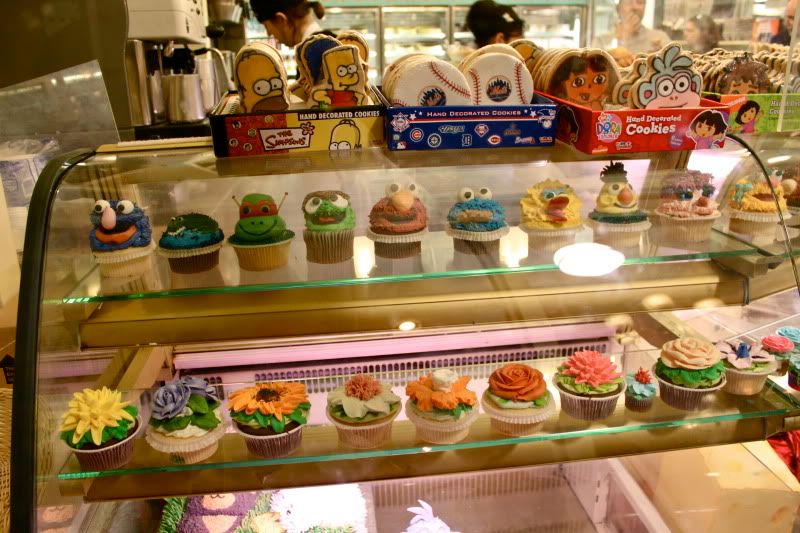 Sesame Street cupcakes!!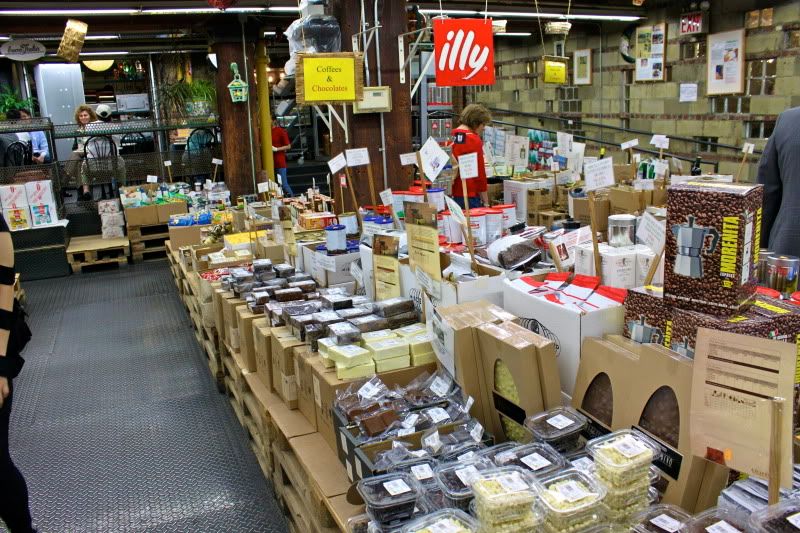 There's a really great Italian specialty food store in here that sells a crazy assortment of imported things from Italy: pastas, aged meats, cheese, olive oil, spreads, chocolate, the works!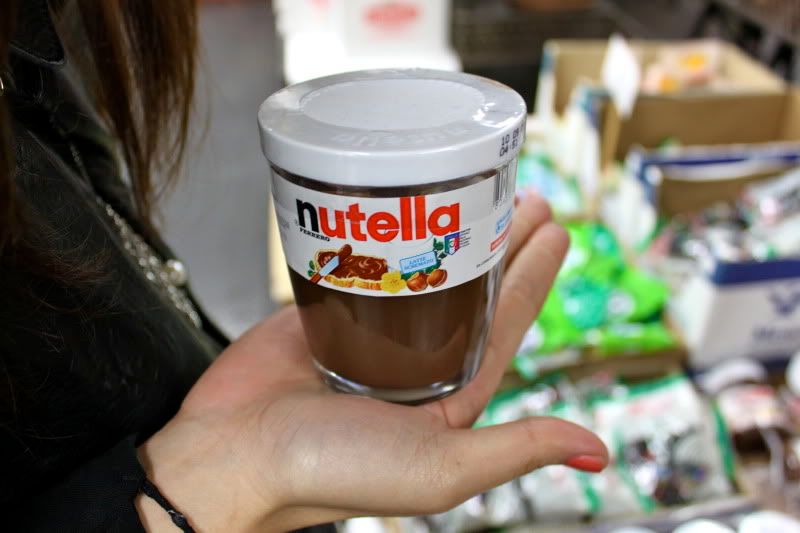 I loved how this nutella was in a little glass jar, not plastic like the ones they normally sell in the states. Who doesn't like a good ol' slab of nutella on some hot crunchy toast.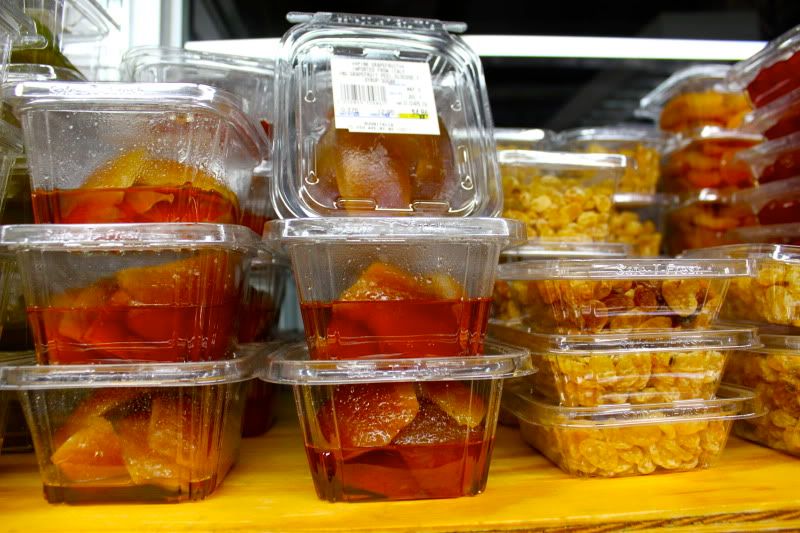 They also had a lot of candied fruit! toto, I don't think we're in kansas anymore!
Another amazing shop to visit here is the Lobster Place - so much good fish to pick from and so fresh!!!
I'm definitely going to have to come back here and buy some goods to make a crawfish boil, southern style ;)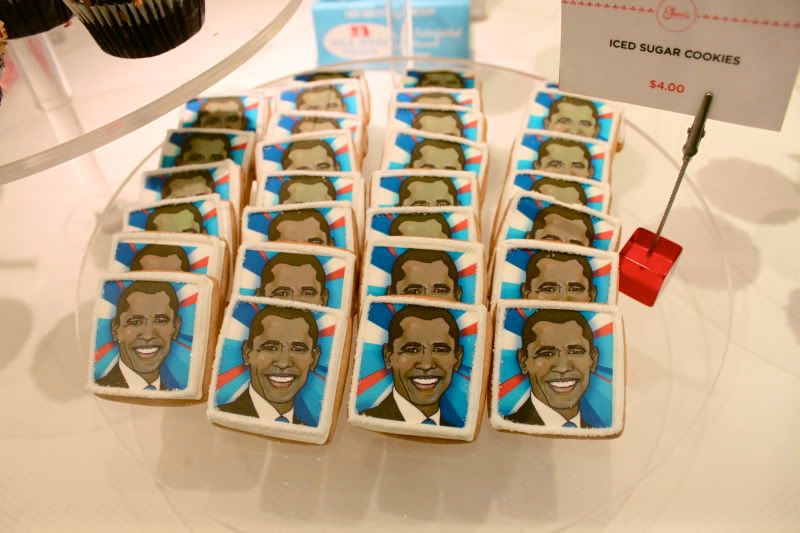 Best Obama propaganda, hands down. from Eleni's bakery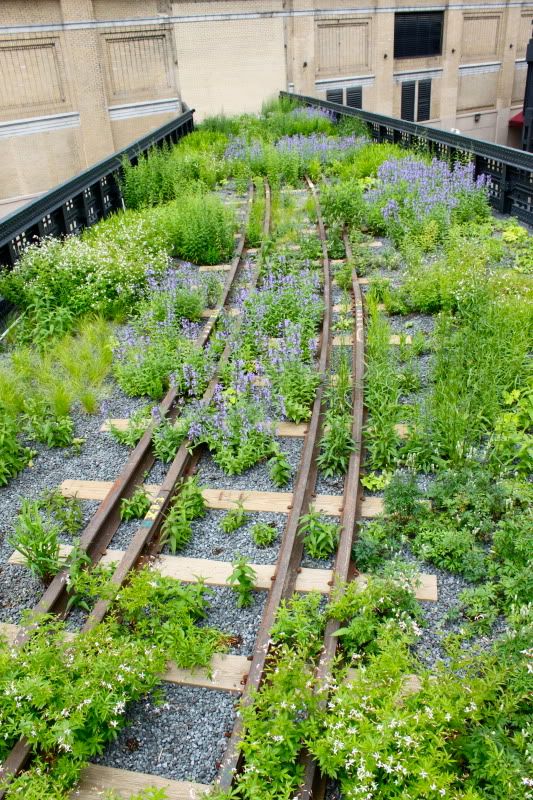 On our way to the galleries, we stopped by the newly opened High Line park, which is being built over the site of an old railroad. Only a little bit of it is open right now, but I can imagine once it's completely finished, it'll be a beautiful place to take a long walk!
You can see the Chelsea piers so well here - I love how the park overlooks the street!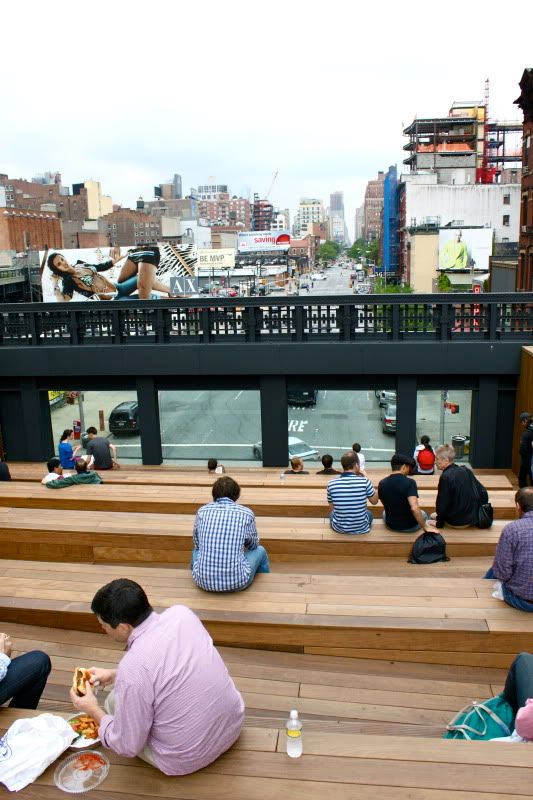 Stadium seating is also something I've been seeing a lot of throughout the city recently - have any of you guys sat at the random stadium seating area of the newly renovated Juilliard building?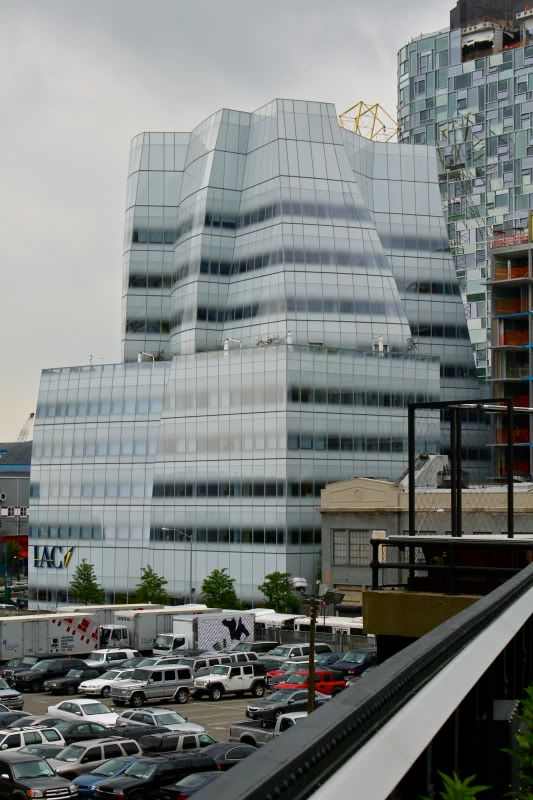 This building is so breathtakingly organic.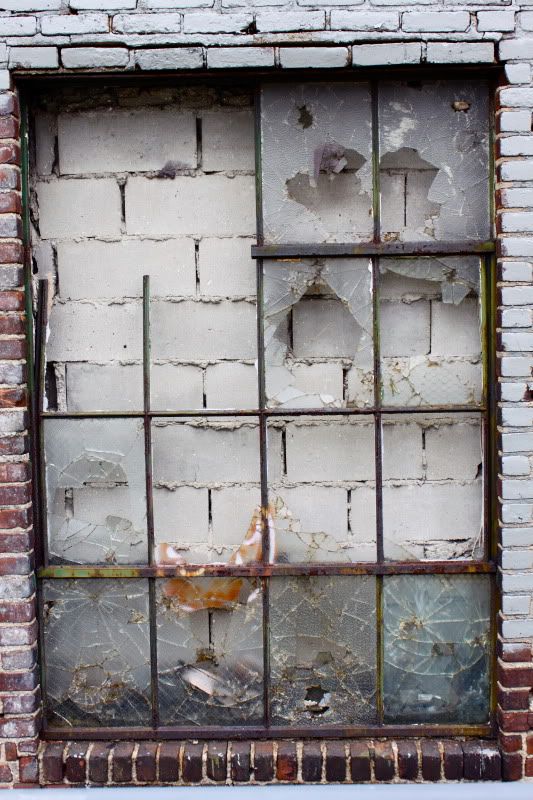 Being so high above the street made us eye level to second stories of decrepit old buildings. How weird is this window!?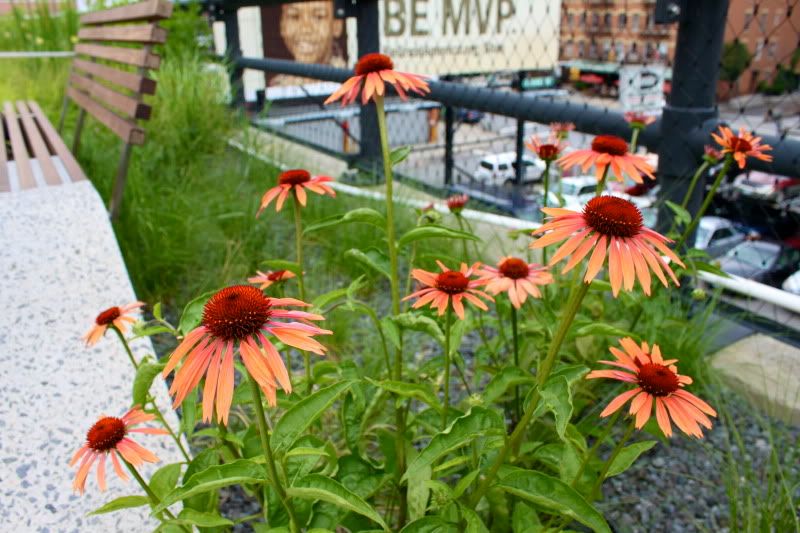 I wore out my new vintage bling bling necklace with the usual chains. I kind of love how it's so pageantry.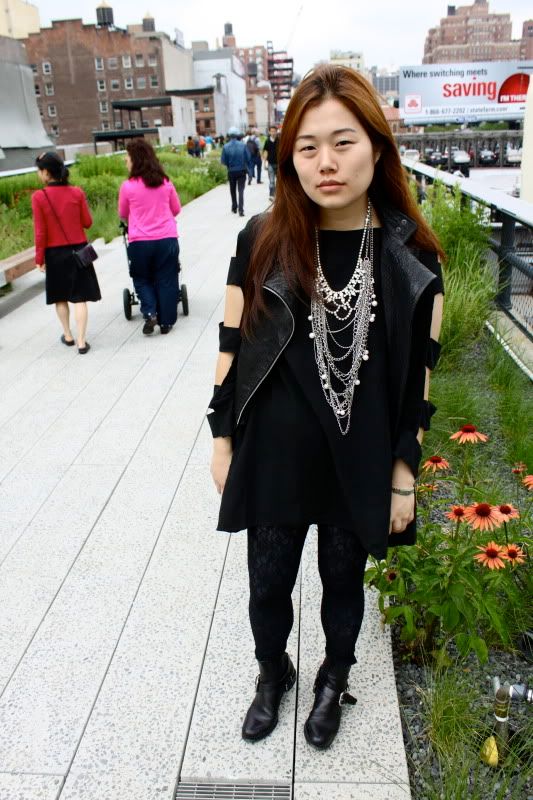 Outfit details: Peeps dress, H&M lace tights over AA tights, Alexander Wang leather vest, Miu Miu boots, Chloé bag.
The outdoor garden of the Jim Kempner fine art gallery. I'd love to be greeted by something like this daily upon homecoming.