Last Sunday, the boy and I ventured out of Manhattan and did a day trip to the DUMBO area of Brooklyn (in case you're wondering, I didn't make that up - it stands for down under the manhattan bridge overpass). I know that doesn't sound like a big feat but I'm one of those sad Manhattan-ites that is completely lost outside of this little island. Brooklyn, Queens, the Bronx = what?!? Actually, come to think of it, I might have been scared into never venturing outside the city seeing as how the only three people that I know personally who have been mugged in NY, it happened in Brooklyn. But then, after my whole almost-stolen bag fiasco that occurred in the Lower East Side a few months back, there went my delusional theory of "how to avoid getting mugged".
Reading about the Brooklyn Flea Market was the final push to get me out there again and now that I've been, I feel like a complete idiot. Granted, the area that the flea market is located in is literally one stop out of Manhattan, but nevertheless, it's beautiful there and since it's right by the water, it reminds me a lot of South Street seaport, only with beautiful graffiti art and cooler shops. Oh and really good pizza and ice cream- major points Brooklyn, major points.
First thing I saw after I got out of the subway was this amazing restaurant! I wanted to go in and gobble up some delicious Mexican food (always down to eat Mexican!!) but unfortunately, to my surprise, a lot of this area isn't dog friendly!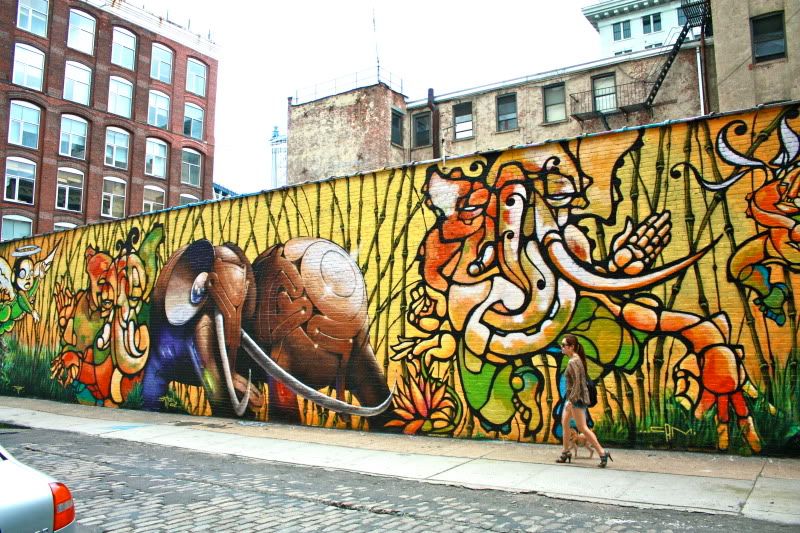 Maybe this is what animals will look like in a thousand years after we experience another ice age that will wipe out existing species? Robotic mammoth graffiti art in DUMBO - perhaps a satirical gesture to our beloved disney dumbo?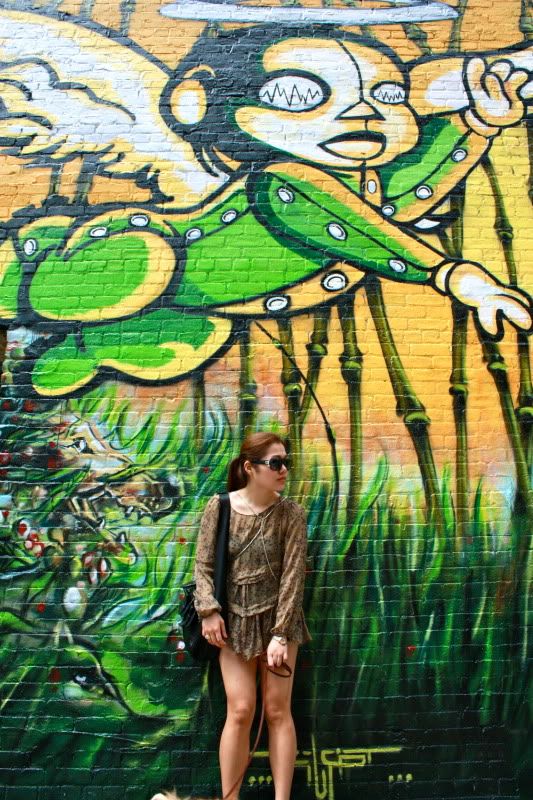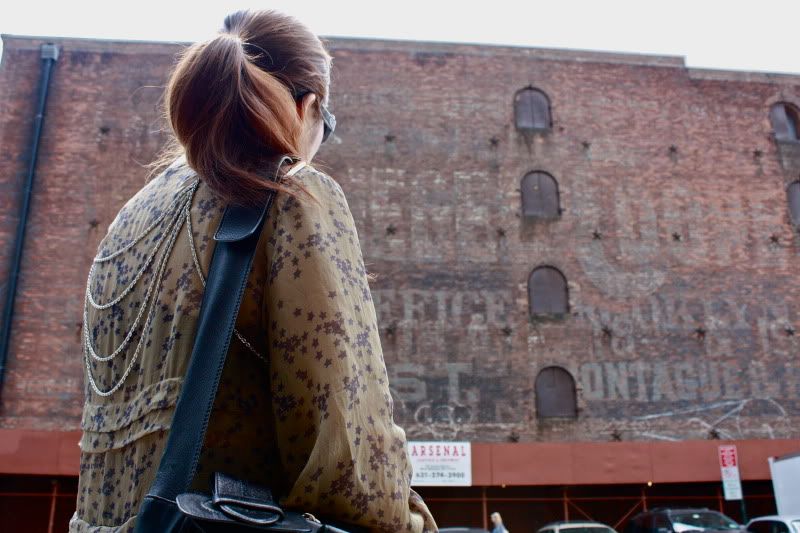 This building had a really cool metal star pattern that the boy so poignantly pointed out mirrored the pattern on my blouse. This is what happens to even the boyish of boys after hanging out with me 24-7.
The beautiful blue Manhattan Bridge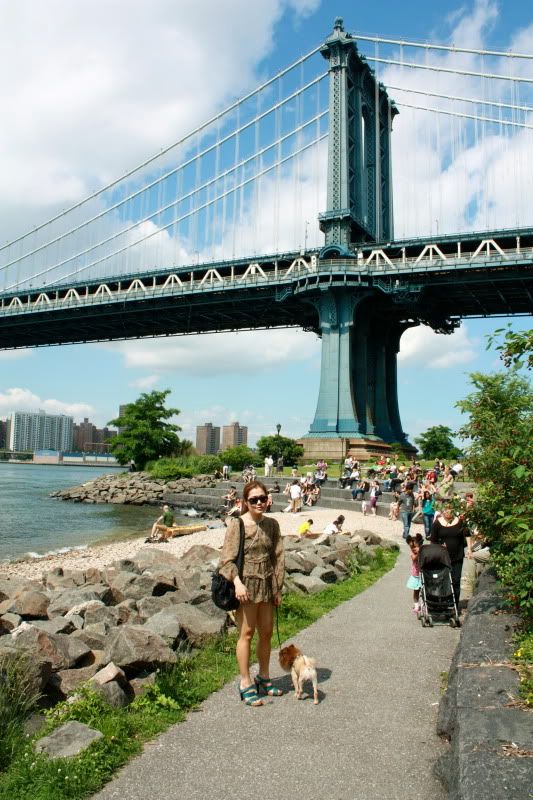 Outfit details: Zara blouse, H&M denim shorts, Balenciaga shoes, Chloé bag and sunglasses, DIY body chain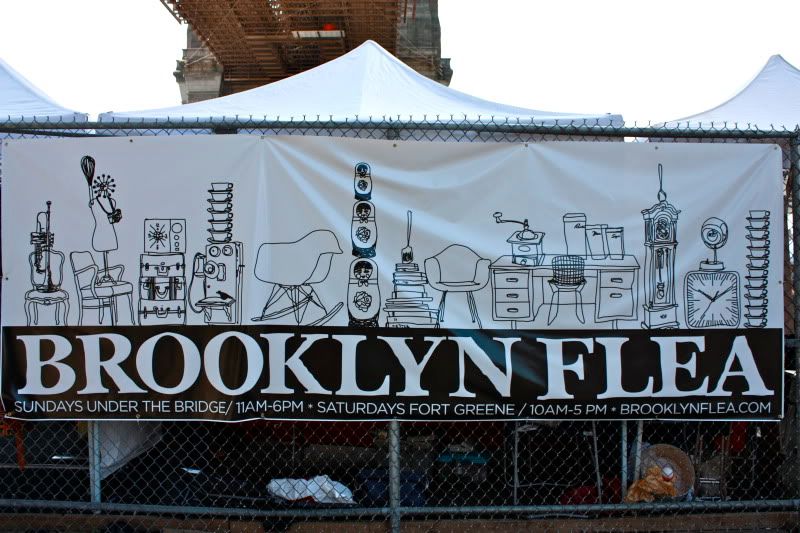 I have a huuuuge love for flea markets because they were a big part of my childhood. Texas flea markets put New York ones to shame... but this one was really great too! Lots of cool vintage jewelry to be found and random furniture. Because of my self-imposed shopping ban, a $14 belt was my only purchase but I could've done some SERIOUS damage here!!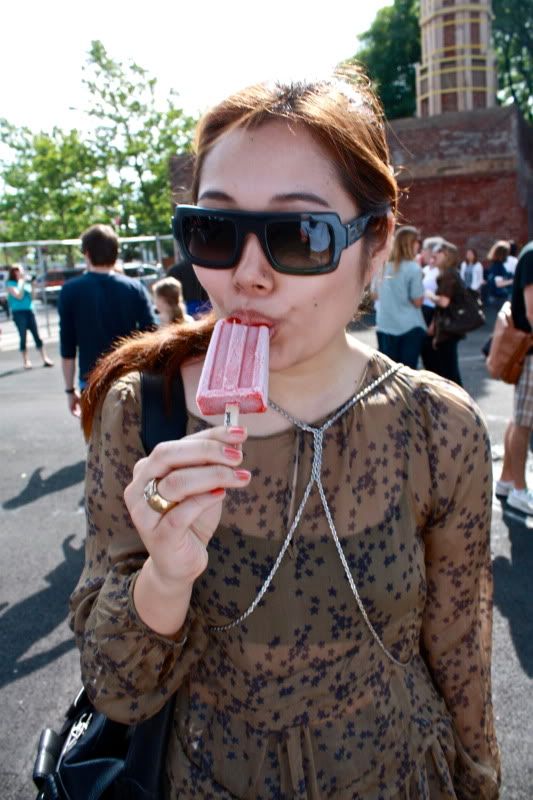 I don't know why but this area was at least 20 degrees hotter than it was in Manhattan. Best way to cool down on a hot sunny Sunday? Homemade strawberries and cream Popsicle!!
How cute is this $10 baby rocking horse?!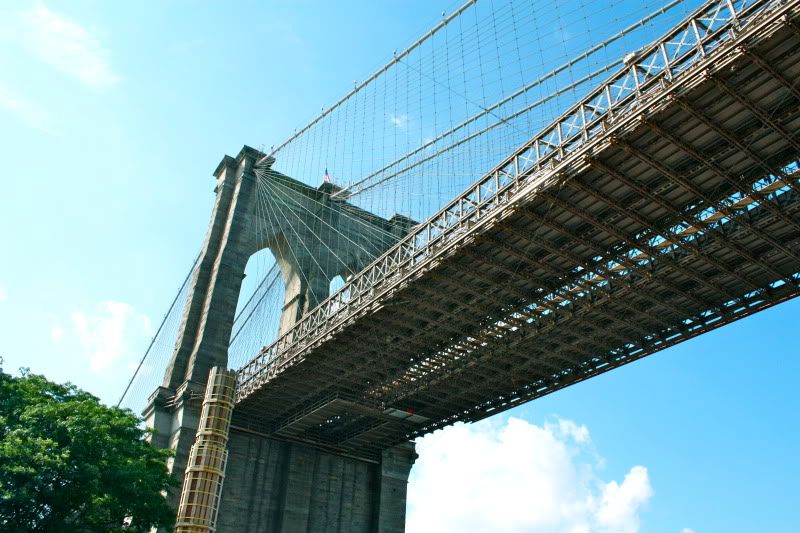 Brooklyn bridge!!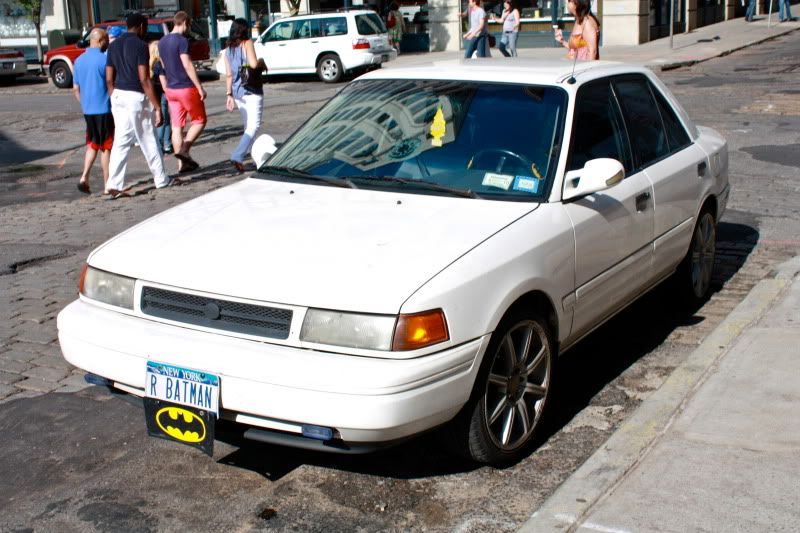 This car kind of made my day. What I would've given to see who owned this car...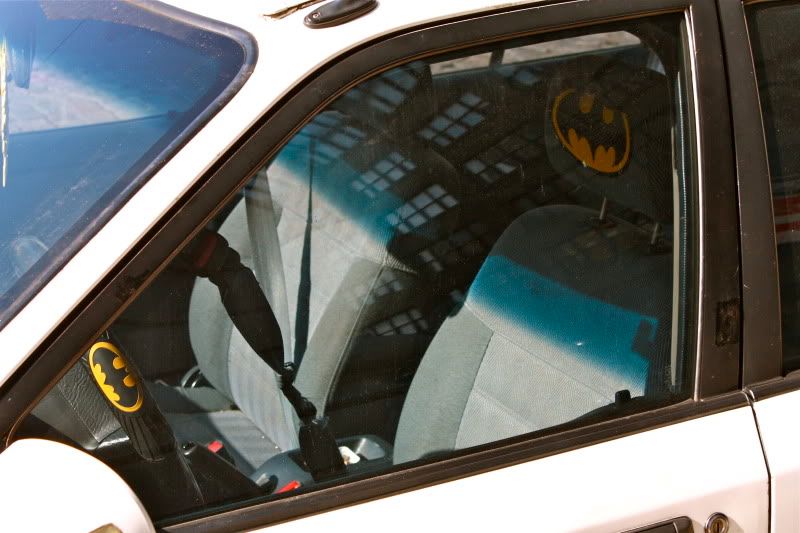 Look at his pimped out steering wheel and headrest!! LOL.
We headed back to Manhattan to have dinner at one of the boy's favorite restaurants in the city - Flor de Mayo. Really, we found it by complete accident because one of our Juilliard professors took us out to eat there several months back - and ever since, he can't stop raving about their Chicharrones de Pollo (Spanish fried chicken). It's a really weird restaurant run by Chinese people (who immigrated from Peru) so the menu is a strange strange mix of Chinese and Spanish food. This tiny place is always hustling and bustling full of both Asian and Spanish people, so seeing as how both palettes are fully satisfied, they must be doing something right! Apparently, their fried chicken has an almost "MYSTIFYINGLY GOOD" flavor so I would have to recommend it for all you chicken lovers out there.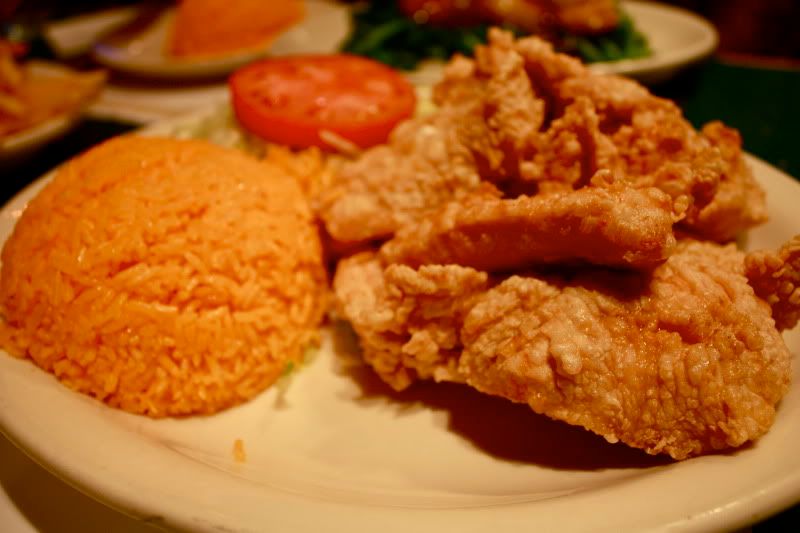 The infamous chicharrones de pollo.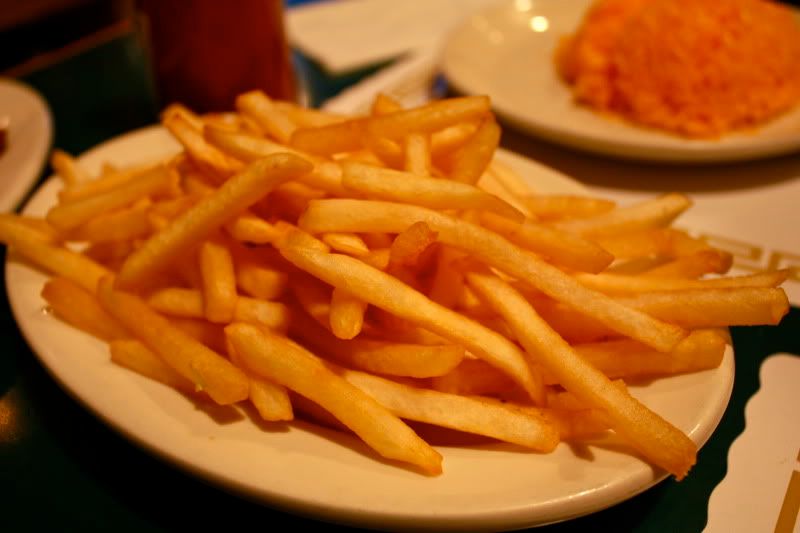 papa fritas - aka french fries. It sounds a lot better in spanish though.
sweet fried plaintains. They kind of look like little drumsticks in this photo!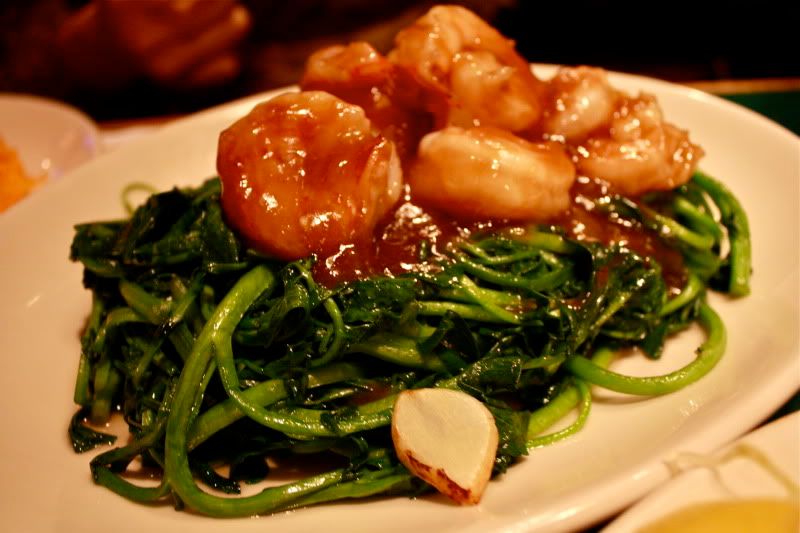 My favorite dish here - shrimp with watercress
Getting my hot sauce on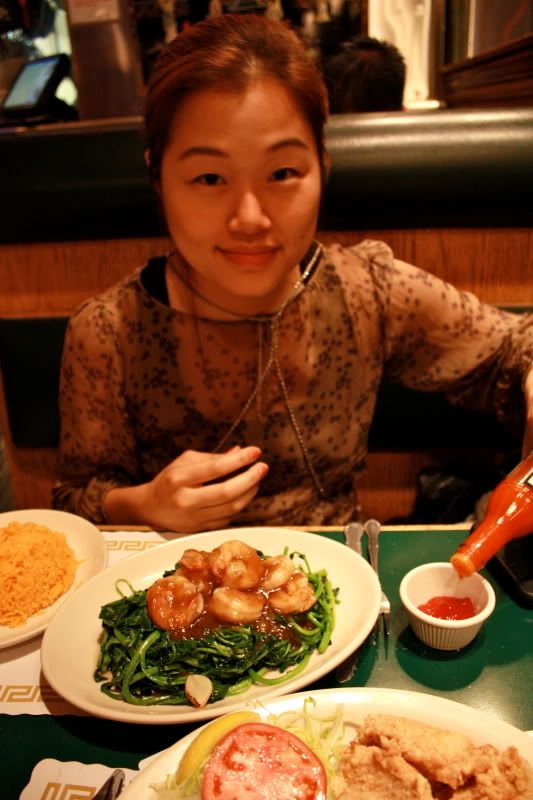 p.s. Lucrecia from
Fashion is Poison
sent me this really cute interview that I filled out - She's planning on doing more of them so you can read more about it
here
!!