These photos were taken on a beautiful day in Soho with the boy, where I finally got a new pair of walking flats. Since then I've put myself on a shopping ban seeing as how I can't fit all of my clothes into my closet/drawers, and it's been really nice not having that constant need-want-need-want buzz going around in my head. Sometimes it's nice to steer clear of shops, the blogs, the trends, the hype, and just relax, take a long walk, enjoy the weather, and eat some quality food.
Outfit details: Topshop cropped button up, Alexander McQueen longhorn belt, Chloé shorts, Chloé sandals
I recently visited for the first time this vegetarian restaurant in the West Village Gobo, which ended up being a bit too... "vegetarian" for me but one standout item we ordered were the sweet potato/yuca fries. I only discovered yuca fries a few years back at La Esquina - but I instantly knew they'd be a favorite of mine because I love the texture!
The weather in New York has been all kinds of dark and dreary and I've really been craving a getaway back to soak up some West Coast sunshine. For right now though, a look back at some of the great food I ate there will have to suffice... I realized I never showed these two places to you guys while I was looking through my albums.
Zinc Cafe & Market
Zinc is this really great vegetarian cafe in Laguna Beach - ahh looking at this food instantly brings me back to this spot a few months ago: sitting in the sunshine outside, enjoying the view, spending some quality time with the boy...
Open Sesame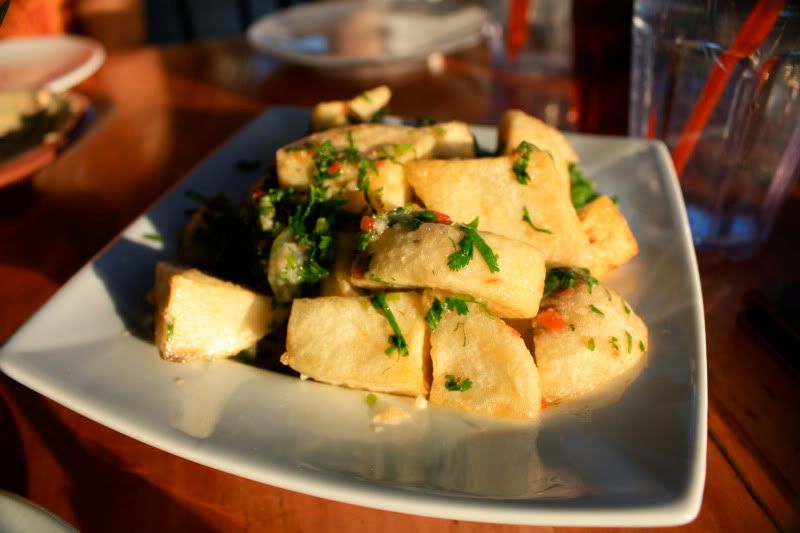 Open Sesame is a really good Lebanese restaurant in Long Beach - these fried potatoes were so good. Just looking at this photo brings back the aromatic smell of cilantro, garlic, roasted chili, and freshly squeezed lemon juice. They came out piping hot but I kind of tore into them right away because that smell was wafting towards me oh-so-enticingly. Nothing like a burned roof of your mouth to tell you that what you just ate was heaven.
Open Sesame Combo - skewers of kafta, beef, and chicken tawook on basmati rice with baba ghannouj
Grilled Tiger Shrimp with basmati rice and hummus.