I'm baaack!!!! I'm still alive!! haha. it feels really strange not to have 'blogged' for a week now. strange good and strange bad.. ultimately just very strange how I've gotten so accustomed to doing this a few times a week and talking to you guys!! anyway I've missed it and since I'm officially done with school, things should be going back to normal.
There's nothing really exciting to report about my past week, other than the fact that I had probably the worst cold of all time, (I didn't know a cold could cause such intense misery?!?) sliced the tip of my thumb clear off while cutting and mounting my exhibition work, and I was suffering through preparing my final thesis presentation that was this entire weekend so I had no time to do anything and no time to look halfway decent in the midst of my caffeine-induced, sleep-deprived, overworked, weary haze. I kind of wore the same thing everyday and it kind of felt incredible to do so. ha.
Today was stupid cold. I mean COME ON it's may 18th!! no more 50 degree weather please!!! I actually had to wear out a thick leather jacket today and was still cold. ugh ugh ugh. Nevertheless, since I am done with school (hopefully forever), the boy and I wanted to go out tonight and have a mini-celebration and took a short trip over to alphabet city to do a little bar hopping/eat pizza.
Pizza is one of those foods that just tastes so much better late at night after a bit of drinking... crunchy crispy oozy gooey hot salty melty stringy cheesy. While new yorkers will always have their favorite pizza spots, I think that most will agree that
Artichoke
is one of the best places in the city to get a slice. And if you don't agree with me, then... you're weird. haha. Don't come here expecting sausage and mushroom kids. It's called artichoke for a reason. Mainly, because their namesake pizza is made of spinach+artichoke+cheese. Basically a pizza crust topped with spinach artichoke dip. I know. earth-shattering. haha. No seriously though, it costs $4 a slice, which admittedly is a bit expensive for pizza, but trust me, this thing is TWICE the size of a normal ny slice and is bigger than my head.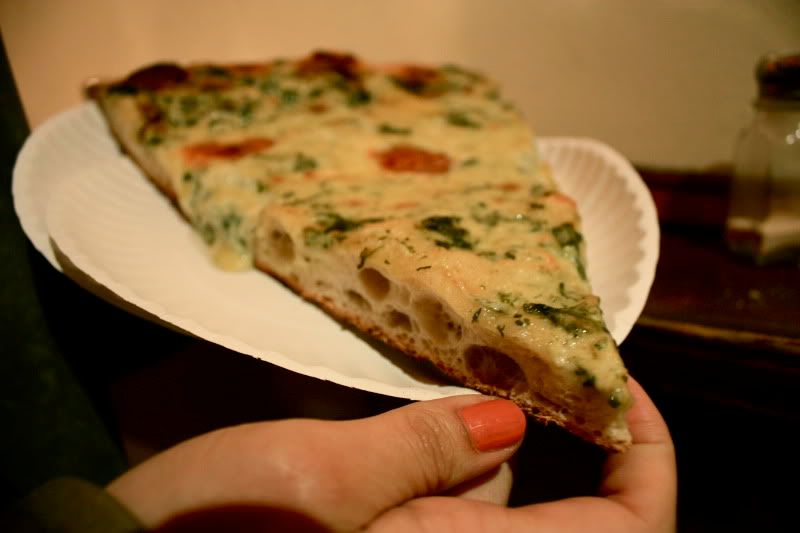 crab pizza
If traditional pizza is more your fare, they also have an amazing margherita pizza. This is pretty much all I ever ate when I was in Italy. all day long. pizza. Honestly, one of the best things I have ever tasted in my entire life was a slice of pizza in Rome that I got at like 12am that was topped with french fries. It sounds really weird but to this day, if I could go back in time and re-experience something I ate, that would be part of my top 3. seriously.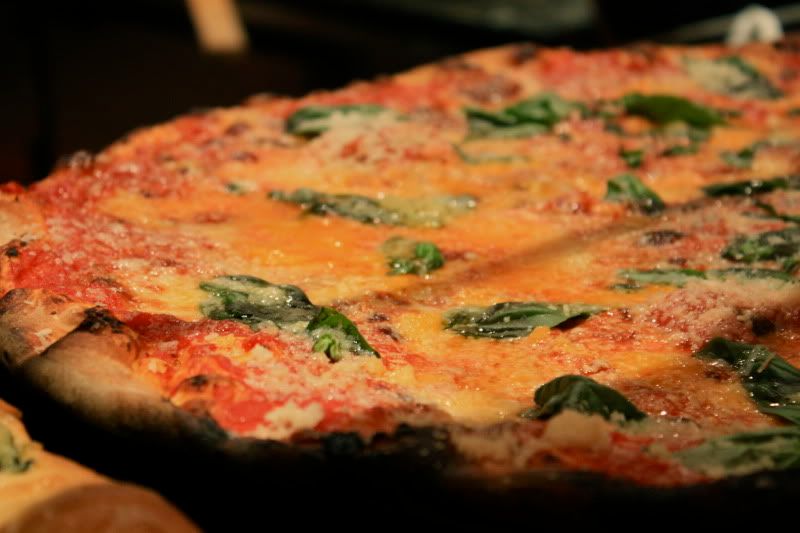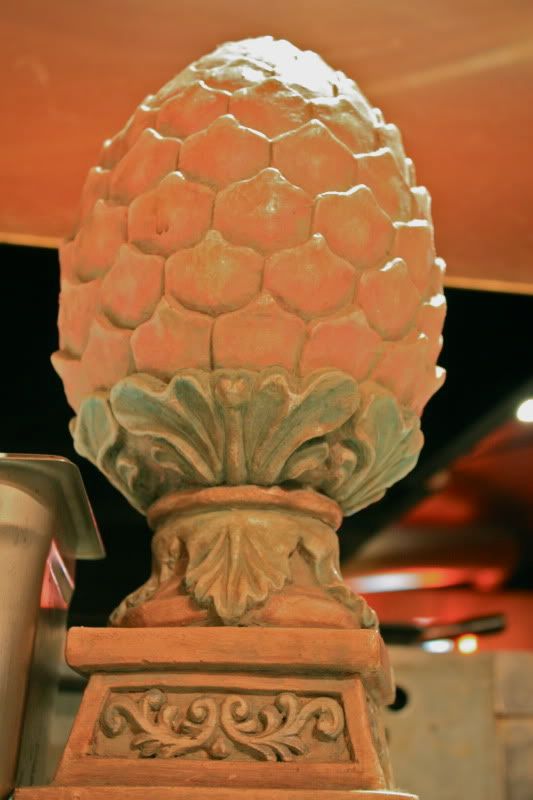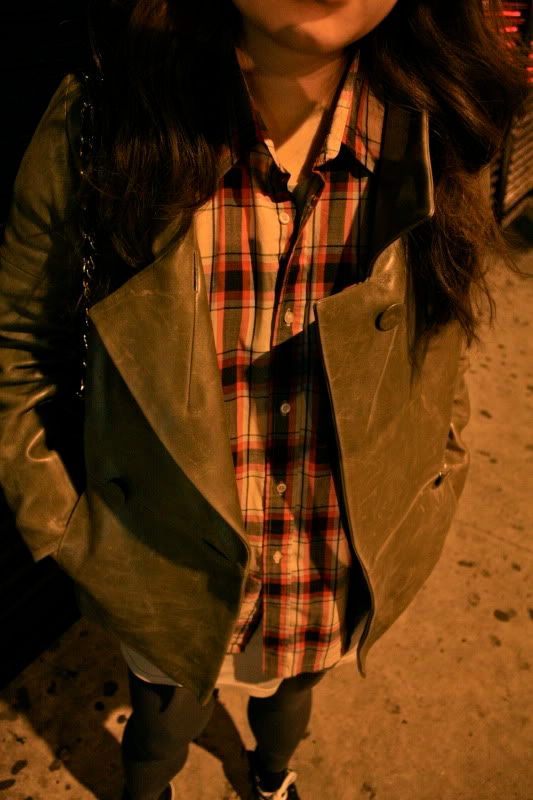 Tonight, I wore out a vintage plaid shirt I scored this weekend. I've been looking for a plaid shirt for quite some time but every fabric I felt was a little too heavy and I wanted something soft like my baby meeko's little forehead. This shirt had me at first touch. haha. I have this really weird way of shopping where I kind of roam around and look at everything and if I'm somewhat intrigued, I have to give it a quick feelskie. I kind of want to sleep in this and never take it off. Even my "I would never wear something plaid" boyfriend tried it on and commented on the softness factor. Maybe I'll let him borrow it... don't worry. it's a men's shirt ;)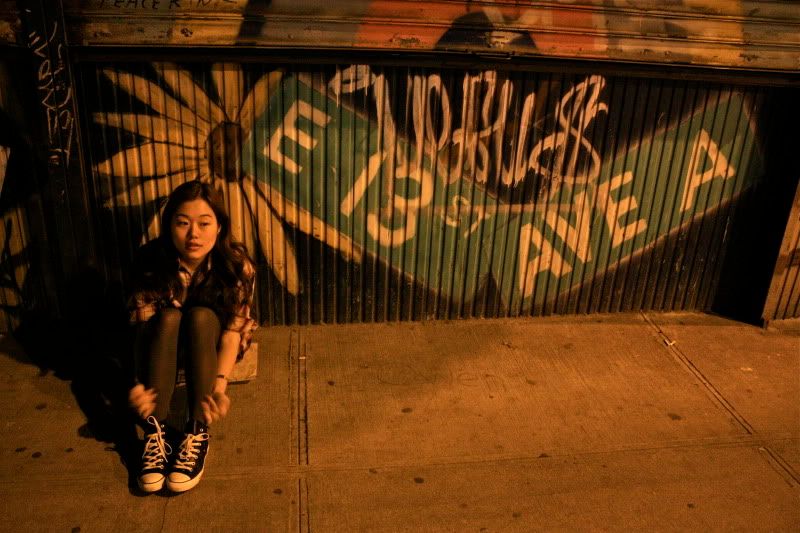 I was thinking that I should have had a little cup to jingle-jangle around to have made this look really authentic. oh and maybe an actual cardboard box to sit on, a sad sign like "mama needs a new pair of shoes", some dreadlocks, ripped up clothing, and an insanely cute stray pitbull-mix with sad puppy eyes.
fighting off a sudden huge gust of wind.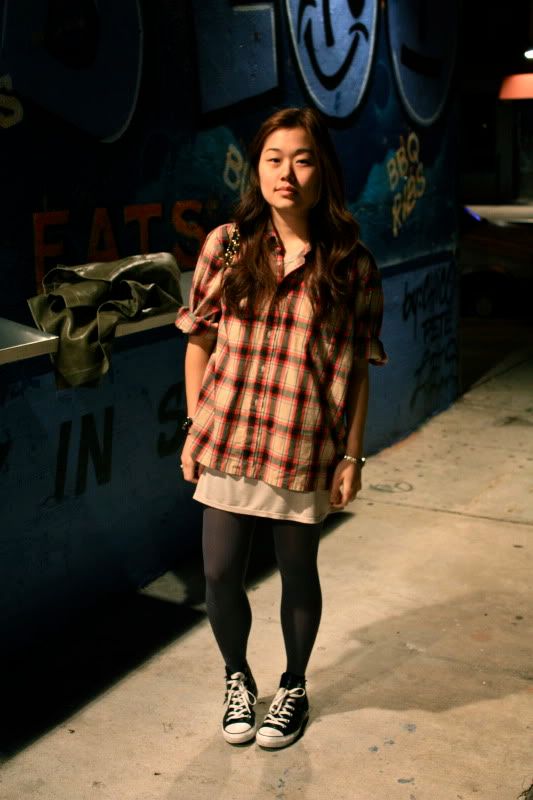 Outfit details: vintage plaid shirt, Alexander wang tank dress, Chloé leather jacket, leather Converse.
12:51 is the time my voice
Found the words i sought...
Is it this stage I want?

The world is shutting out...for us.
We were tense for sure,
But we was confident...Kiss me now that I'm older
I won't try to control you
Friday nights have been lonely
Take it slow but don't warn me

We'd go out and get 40s
Then we'd go to some party
Oh really, your folks are away now?
Alright I'm coming...

I'll be right there.
-12:51, the strokes.