Okay so the good weather lasted a hot New York minute and now it's gloomy, thundery, stormy, humid, and all around blech. There's nothing more that I hate weather-wise than high humidity. It's just intolerable because I constantly feel hot and clammy, and sudden downpours of rain just make it impossible to go outside properly dressed. Sigh. I hope the weather forecast for the next week is completely wrong. 
The only upside about the rain is that I get to use my strawberry umbrella, which I've had for several years now, and is one of my most cherished possessions. A long time ago, when the boy and I first started dating, we spent a summer apart, and we both somehow ended up going on separate family trips to Korea (where both of our parents are originally from). I went first, the boy went a few weeks afterwards -- ladies first ☺ Anyway, when we both got back to New York in the fall, I excitedly met him at his apartment, where the boy told me that he had bought something for me while he was in Korea and pulled out this strawberry umbrella. For a second, the sight of the umbrella only made me feel really confused because I had bought the exact same umbrella during my trip and I was thinking "wait... how did he get my umbrella?" haha. The moment when I realized that not only had he serendipitously bought me something that I had already bought for myself in a foreign country no less, but that this boy had actually hand-carried a red, girly, strawberry printed umbrella for me on flights from Korea, to LA, to NY, that's the moment when I just knew ♥
Outfit details: Barbara Hulanicki for Topshop blouse, Intermix leggings, Miu miu boots, Chloé Boudoir bag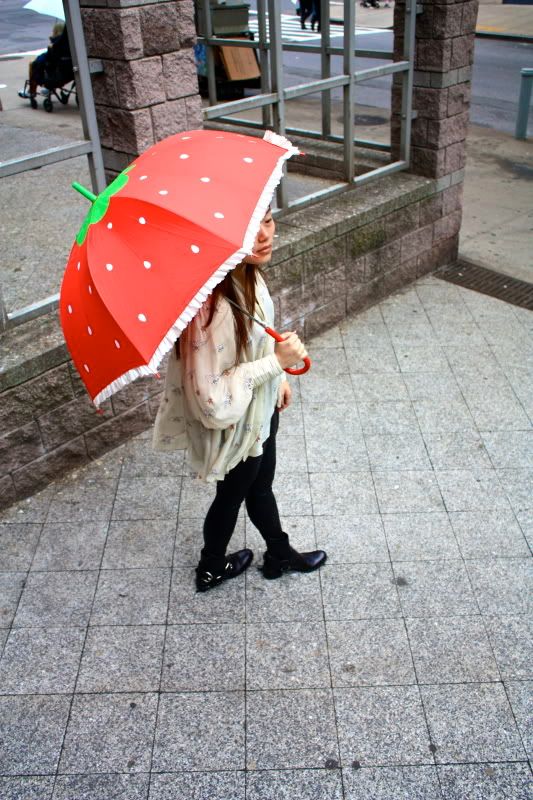 Before the rain actually started pouring mid day, we went to eat at Kunjip, which is one of my favorite Korean restaurants in New York. I know it seems like all of the Korean restaurants on this strip would generally taste the same, but there's a reason why this one always has a line. 
Hot stone bibimbap. As you can see, a lot of Korean food is red. We like it hot ;)
After Korean food, something sweet and cold was in order so we went to have frozen yogurt at 40 carrots located inside Bloomingdales on Lexington Avenue.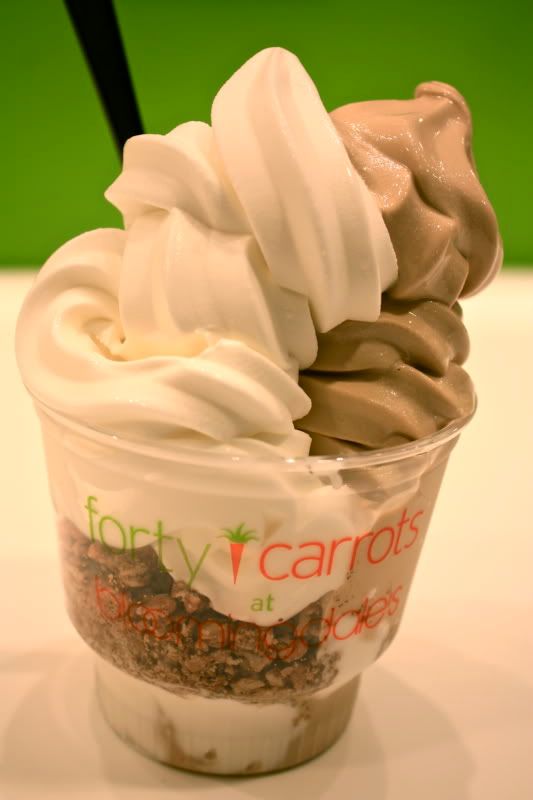 Plain + Coffee yogurt mixed in with granola. Yummmm. before Pinkberry and Red Mango invaded the States and the fro-yo trend just exploded all over our little island, 40 carrots was one of the original frozen yogurt places. Nothing can really beat the creaminess of this stuff. 
When I got out of the subway today on 5th avenue, it was raining like no other. I spotted someone going up the subway steps wearing the red Susans, and seeing that she was thin and blonde, I immediately assumed it was Kate Bosworth (who has the red Susans) and bolted after her to see who it actually was. Little did I know I was like 1 foot off when I thought this girl was Kate Bosworth, because it ended up being Caroline Winberg. I wanted to scold her for wearing those precious babies in the rain!! I snatched my camera out of my bag to snap a paparazzi photo of her outfit for you guys. How epically "modeley" of her to be wearing a tshirt, skinny jeans (with studded back pocket!), leopard scarf, leather jacket, hobo leather bag, and ankle boots. I think her jacket was Rick Owens and I won't lie -- I was mad jealous! And she was carrying the Alexander Wang Donna hobo bag. What a cutie. One of my first jobs ever was working on the sales floor at a store in Soho, and she came in with Gemma Ward a few times. This was when Gemma was a huge deal and Caroline's career was first starting to pick up. Wow how times have changed. 
Don't ruin your shoes lady!!!! I love the reflection of her shoes against the rain-pelted sidewalk.
I hope everyone has a fun-filled weekend! And if you're stuck in New York with this dreadful weather, just stay home and eat cupcakes!!