The rain hasn't stopped here for about a week and it has seriously been affecting my mood... Humans are a lot like plants in that way... we thrive and survive on our reserves of sunlight and warmth and they need to be filled up every once in a while or else we too start wilting and shriveling inwards. There's been a few things that have been on my mind that have left me a bit uninspired by fashion-related things but sometimes a brief hiatus from the fast-paced world of the latest trends, new collections, and freshest faces can be just what a girl needs.
Instead, I have been turning to other means... going back to some of my favorite books, poets, writers, and looking at artwork as sources of rejuvenation.
This is an amazing photo-collage of Brigitte Bardot that I saw yesterday that is composed of tiny little photographs. It kind of reminded me of Chuck Close's artwork.. which is kind of on a completely different level from this collage but... does have a certain closeness to the photorealism work he does. Speaking of blonde beauties... he actually did an amazing collection of daguerrotypes using Kate Moss as the subject that sold for like $170,000 at Christie's in London.
Kate Moss by Chuck Close. Source W Magazine.
Up close, this is what the Brigitte Bardot piece looked like.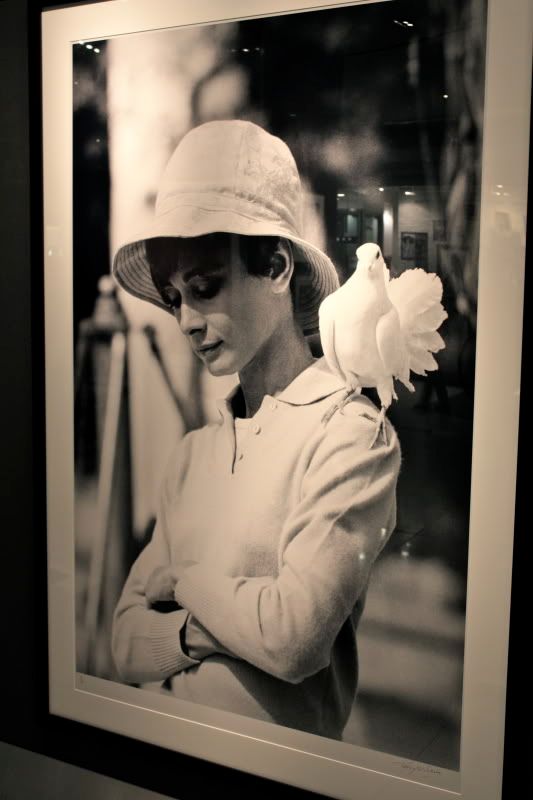 I miss this kind of photography. pre-photoshop.
Outfit details: Zara blazer and shoes, Alex Wang t-shirt, Chloé Paddington Chain bag
I've recently come to like pearls again but only juxtaposed against something harder like chains. I'm thinking of making some kind of pearl necklace but I need to find a good place that sells cheap strands of costume pearls because I need a lot of it to make what I'm picturing. Suggestions? Speaking of suggestions, I really need to get a haircut but a.) I don't know what I want to do with it and b.) I don't know where to go. I'm really finicky with this kind of thing and a bit disloyal when it comes to hairdressers... which is probably the only instance that I would ever say that about myself. New yorkers -- suggestions?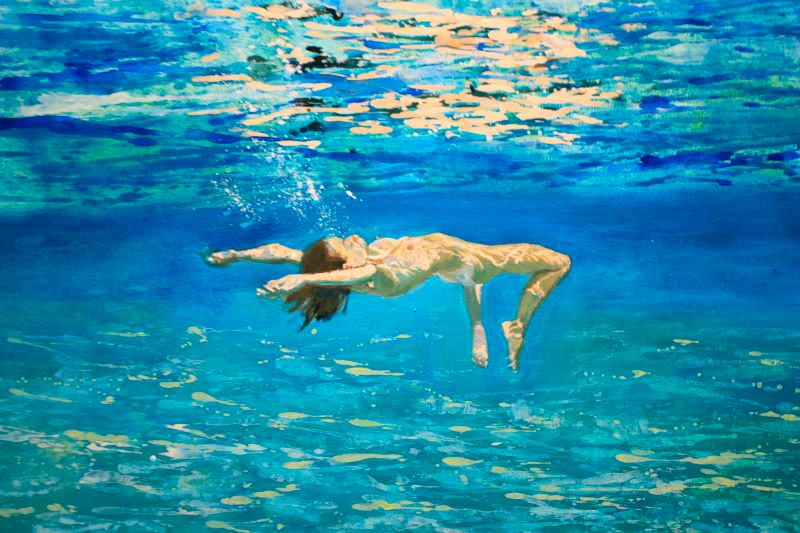 Maria Filopoulou, Underwater Swimmer. I saw this painting yesterday too and it pretty much sums up my current state of mind.
We have lost even this twilight.
No one saw us this evening hand in hand
while the blue night dropped on the world.

I have seen from my window
the fiesta of sunset in the distant mountain tops.

Sometimes a piece of sun
burned like a coin in my hand.

I remembered you with my soul clenched
in that sadness of mine that you know.

Where were you then?
Who else was there?
Saying what?
Why will the whole of love come on me suddenly
when I am sad and feel you are far away?

The book fell that always closed at twilight
and my blue sweater rolled like a hurt dog at my feet.

Always, always you recede through the evenings
toward the twilight erasing statues.

- Pablo Neruda