I spent most of the weekend indoors finding refuge in my apartment with the boy and Meeko against the sudden downpours of rain and clammy cold weather. Somehow I've also managed to come down with something that is making me insanely sleepy with a constant headache. Being sick for me usually means curling up all day in bed with the doggie and spending some much needed time going through my seemingly endless Netflix queue. I feel like there are always so many good films to watch and too many good books to read... the latter seems to take a second seat to my love of films but maybe that's the laziness talking. Anyway. I revisted some of my favorite movies and actresses this past weekend and it's left me feeling a bit nostalgic. On a different note -- thanks to everyone who left such sweet comments about the umbrella story! I think the boy is secretly quite proud to have impressed all you lovely ladies with his umbrella-picking skills hehe.
Outfit details: Chloé tweed coat + cashmere cardigan + lace skirt + Bay bag + Paddington boots, H&M corset, Fogal lace tights, Club Monaco leather gloves
These photos were taken in Union Square Park when I decided to wear out my red Chloé boots that get the least wear out of any shoe that I have. The arch doesn't really fit my foot properly but I can't bear to let them go because I like the idea of them so much. Funny how things in life can reflect my relationship to a shoe.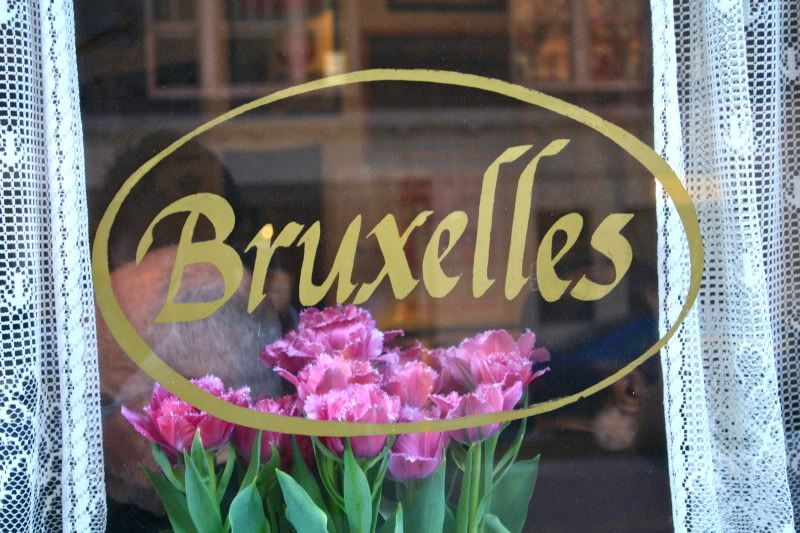 I also wanted to share with you guys my absolute favorite place in the city to eat Moules Frites, Café Bruxelles in the West Village. I've never been a big fan of shellfish because of that ever-present sandy taste, but like so many other things that I don't like to eat, salmon, ginger, lychee, I've tried to eat Moules Frites at several different places because I refused to believe that it was the actual mussel I didn't like, just the preparation and cooking. I finally found the spot that does it for me at Café Bruxelles -- no sandy taste, great texture, delicious flavor, alongside perfectly crispy frites. You shouldn't resign to disliking a dish just because you had one or two bad bowls of mussels, the right one for your palette can be awaiting you somewhere else.
If you were coming in the fall,
I'd brush the summer by
With half a smile and half a spurn,
As housewives do a fly.
If I could see you in a year,
I'd wind the months in balls,
And put them each in separate drawers,
Until their time befalls.

If only centuries delayed,
I'd count them on my hand,
Subtracting till my fingers dropped
Into Van Diemens land.

If certain, when this life was out,
That yours and mine should be,
I'd toss it yonder like a rind,
And taste eternity.

But now, all ignorant of the length
Of time's uncertain wing,
It goads me, like the goblin bee,
That will not state its sting.
- Emily Dickinson