Yesterday I went on a quick trip uptown to the Barneys on Madison ave to take a gander at the summer sale that just started yesterday. I only made it so far as the co-op floor because John Legend was there shopping with his gorgeous girlfriend and I kind of had to man the floor to keep an eye out for him as I waited for my JL-obsessed friend to run over from her office on 5th ave. haha. oh the things women will do for love. From the hustle and bustle in the store because of the buzzing shoppers and the overflowing fitting rooms, it seems the economy is picking up? for the sake of all '09 graduates (ahem.. me) let's pray that it is so that we can all find a job!!
After Barneys, I headed west to go grocery shopping for dinner that I decided to cook for once! I actually do know how to cook... From the excessive eating out that I do, one may infer that I'm one of those girls who pats herself on the back for making a pack of ramen, but I'm not. It's just very very hard to cook when it seems so much cheaper to me to eat out. Why are ingredients so expensive? Why does it take so long? Why are there so many dishes to clean up afterwards? And most importantly, groceries have to be lugged home and I hate that. I always took these things for granted back in Texas when I could just throw everything in the trunk and not have to worry about the weight of my actual items. Ah and counter space in suburban homes... lucky ducks.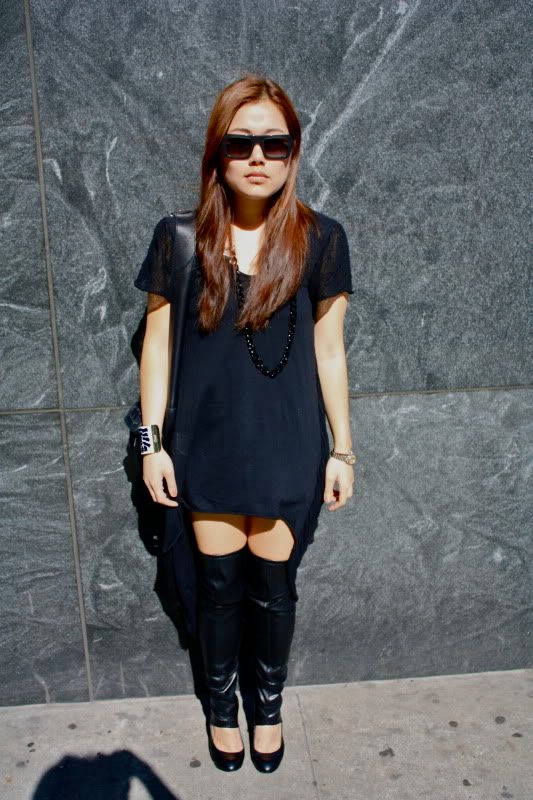 I wore out my
DIY allegra inspired shirt dress
again, which I've decided is kind of the best thing ever for warmer days because since the back doesn't really exist, it's totally breathable. I've been meaning to make another one in a different color but the time it took me to make this one.. it's a bit intimidating to start yet another time consuming project!
Outfit details: American Apparel shredded shirt, Zara boots, Chloé saskia bag + sunglasses + cuff + necklace.
One of my favorite cuffs!
For dinner, I made macaroni and cheese with my own little spin using Gruyere + Sharp White Cheddar + shrimp + crabmeat.
The boy insisted on making his garlic bread which he is so insanely proud of. Obviously he doesn't know how to portion the sizes when he cuts bread...
Bon appetit!!
edit: Any of you who were interested, I used Ina Garten's recipe. p.s. I wish I was her friend. Have you seen her food? Have you seen her house in the Hampto
ns?
Ingredients
Kosher salt
Vegetable oil
1 pound elbow macaroni or cavatappi
1 quart milk
8 tablespoons (1 stick) unsalted butter, divided
1/2 cup all-purpose flour
12 ounces Gruyere, grated (4 cups)
8 ounces extra-sharp Cheddar, grated (2 cups)
1/2 teaspoon freshly ground black pepper
1/2 teaspoon ground nutmeg
3/4 pound fresh tomatoes (4 small)
1 1/2 cups fresh white bread crumbs (5 slices, crusts removed)
Directions
Preheat the oven to 375 degrees F.

Drizzle oil into a large pot of boiling salted water. Add the macaroni and cook according to the directions on the package, 6 to 8 minutes. Drain well.

Meanwhile, heat the milk in a small saucepan, but don't boil it. Melt 6 tablespoons of butter in a large (4-quart) pot and add the flour. Cook over low heat for 2 minutes, stirring with a whisk. While whisking, add the hot milk and cook for a minute or two more, until thickened and smooth. Off the heat, add the Gruyere, Cheddar, 1 tablespoon salt, pepper, and nutmeg. Add the cooked macaroni and stir well. Pour into a 3-quart baking dish.

Slice the tomatoes and arrange on top. Melt the remaining 2 tablespoons of butter, combine them with the fresh bread crumbs, and sprinkle on the top. Bake for 30 to 35 minutes, or until the sauce is bubbly and the macaroni is browned on the top.