Last Saturday afternoon was completely dedicated to Central Park with the boy -- I would say that unexpected 85 degree weather in APRIL would call for such excursions no? We brought books, headphones, blankets, and munchies to lay out and enjoy the weather in one of my favorite areas of the park, Sheep Meadow. I used to live and go to school a few blocks away from the entrance to Tavern on the Green in Central Park so Sheep Meadow was where my Juilliard friends and I used to hang out every day during the warmer months. Some of them even got together and played in the park to make some extra moneys... Hey a sister has got to pay for her shoes somehow ;) Anyway, it seems as if everyone had the same idea of enjoying the weather at the meadow and to say the least, it was absolute madness with bikini clad girls and shirtless guys laying out on towels like the park was Coney Island Beach on a hot summer day. Yes, I understand that it was a bit hot but really? thong bikinis and beer bellies out on full display? TMI!!!! o.O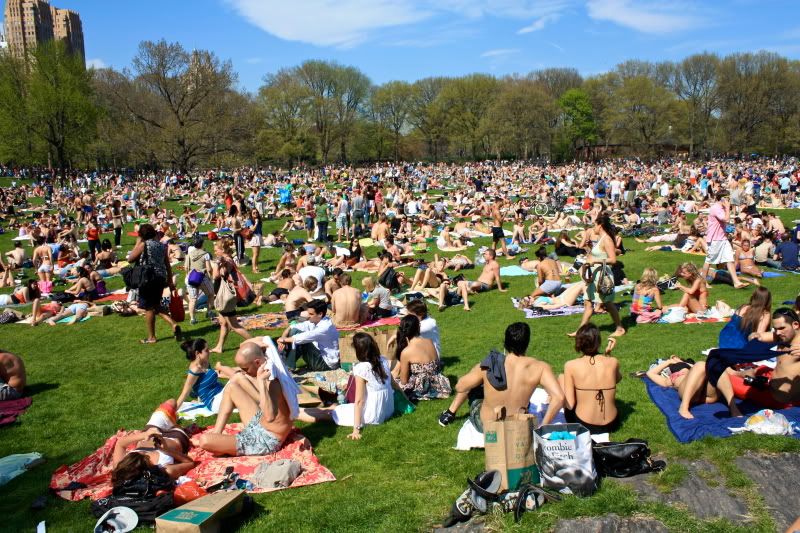 Can you spot me? "Where's Gennie?" hehe. I know the sight of this to non-new yorkers might be a bit shocking.. but yes, this is the length that some people take to get a tan here. I on the otherhand, am armed with my SPF50 sunblock at all times seeing as how I'm in the midst of a never-ending preventative battle against wrinkles.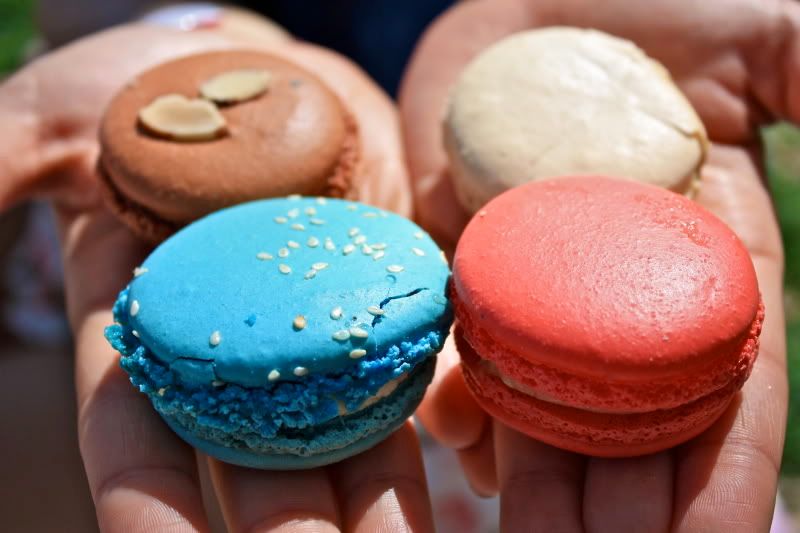 The boy and I wandered over to our usual spot under the trees and set up camp under a big tree and spent a few hours lounging, talking, and eating. Macarons from Macaron Café near the garment district. 
Vanilla macaron the color of le ciel ♥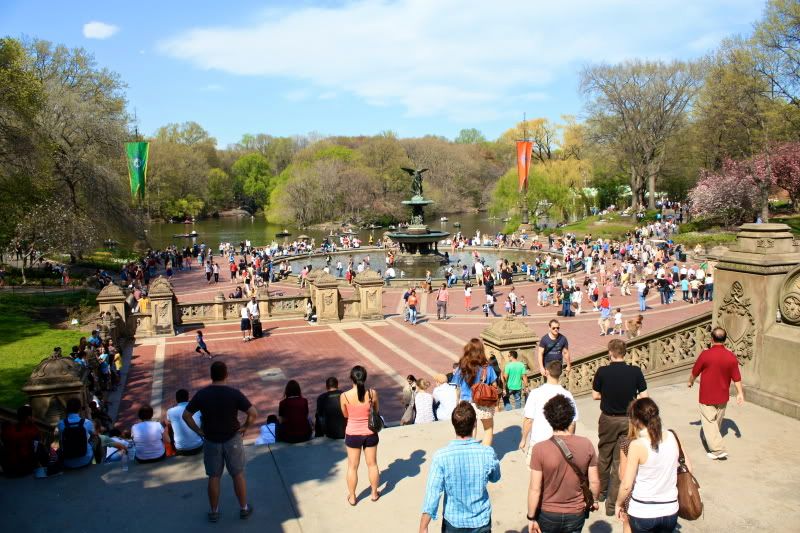 After our sweet treats at Sheep Meadow, we went over to Bethesda Fountain, which is another one of my favorite areas of the park. It was so crowded with tourists that I couldn't take that many good photos :/ But I'll definitely be back another weekend to take some better shots!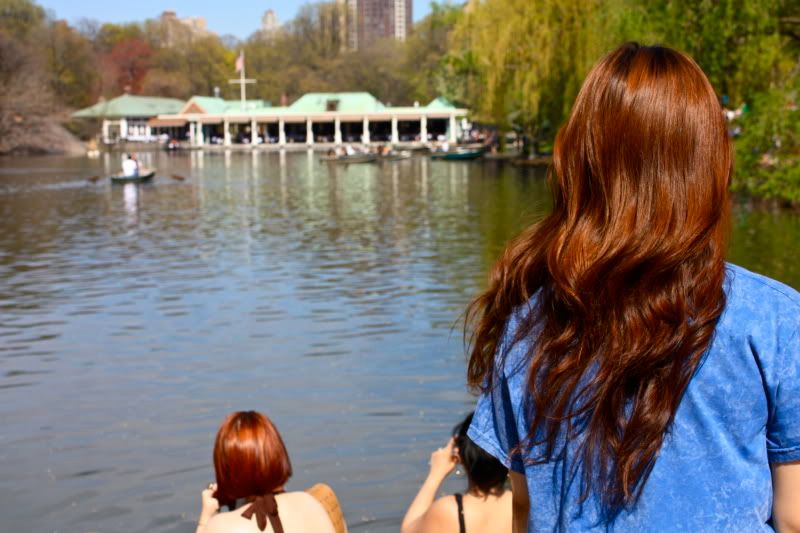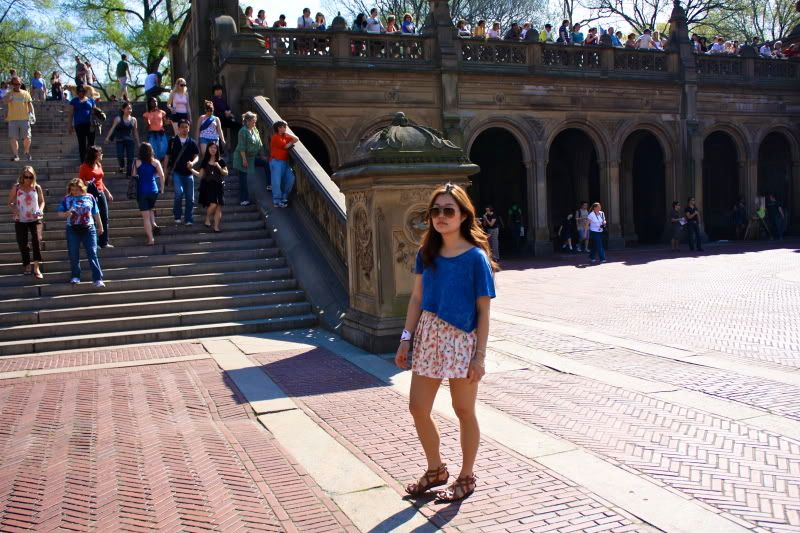 Those archways were featured in an episode of Gossip Girl -- the place where Serena and Blair make up after their huge fight. I think it was the first season? I don't even watch GG anymore but that episode pretty much ingrained in my brain an association with Bethesda and Gossip Girl. 
Outfit details: Topshop shirt and skirt, Chloé bag, Chanel cuff, vintage sandals, vintage sunglasses
After the park, we went down to Soho to do a little shopping (unsuccessful btw) and ended up at
Pravda
for some much needed cool refreshment.
Really strong french martinis.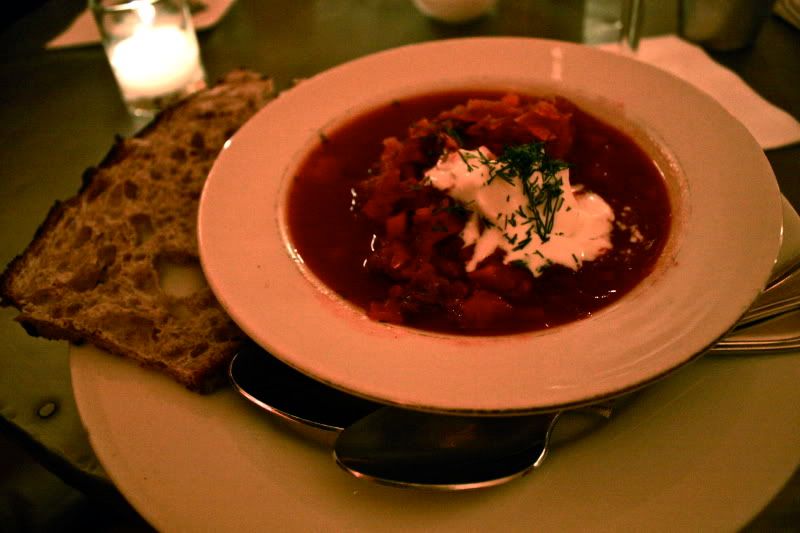 Borscht. Surprising as it may be, after studying with a long succession of Russian piano teachers (who liked to cook for me) and traveling to Russia for two weeks for performances, I sometimes have strong cravings for Russian classics like borscht. Nothing quite like the homemade version though. 
Housemade potato chips with crème fraîche and caviar dipping sauce.