Despite the insane rain storm that slew down upon NYC this afternoon, I headed over to Barneys to view the Alexander Wang Fall '09 Trunk show and was really really glad that I went! The pieces were amazing! I wasn't able to take photos of the pieces but here's a little rundown of what was there:
First off, the shoes were quite amazing in person -- side buckles, insane heel, pointed toe, cool washed out leathers. There were two ankle boot varieties (came in black and a faded out grey) and two flat riding boots that came in two different tones of black. The faded out grey leather seemed to be a strong motive throughout all the leathers of this collection. The bags I thought were better than the shoes: for all of you who love the
Brenda
, it's going to be coming out in the same faded grey as the ankle boots. And any of you who fell in love with the
coco duffle bag
, it will be coming out in the same black with silver studs. There were a lot of cool slouchy studded hobos as well made with incredibly soft leather, but another cute standout was a black bucket bag with gold studs. I kind of loved it. All the shoes + bags were priced under $1000.
In terms of clothing, there were several great variations on the
white goddess dress
that everyone was obsessed with for spring. There were one shoulder options and long-sleeved variations in darker colors. Also, there were several great leather pieces: a cropped motorcycle leather vest with gold studs, an amazing black aviator leather jacket, a grey variation of
this leather jacket
that everyone loved (but this one was better because it was grey and had detachable sweatshirt sleeves and hood!!), and a shearling leather vest. Of course there was an amazing black double-breasted blazer with strong shoulders priced at $625 that I can imagine many many fashionistas wearing in the upcoming fall season :)
Alex was so insanely nice in person and has literally the most effervescent personality that I have ever encountered. Plus he has the nicest skin I've ever seen and he's a boy. jealous!! :D I was wavering between what piece to order but finally decided on the shearling leather vest after he sold me on it -- it's reversible!!! I know that it's something I'll wear forever so I'm so excited for it to come in early fall!! I also ordered a cute cropped sweatshirt top with an amazingly draped back. yay!! I asked him what his favorite piece in the collection was and he said "that's like asking a mother who her favorite child is!!" lol! But he pointed out an amazing crocodile skin blazer that he said he loved. Um... who wouldn't?
There were quite a few women there but most notably, Linda Evangelista was present sans makeup!! I kind of stalked her for a good minute hehe.
Outfit details: Alex Wang boatneck t-shirt dress, Emma cook x topshop boots, Chloé saskia tote bag, Barneys headband.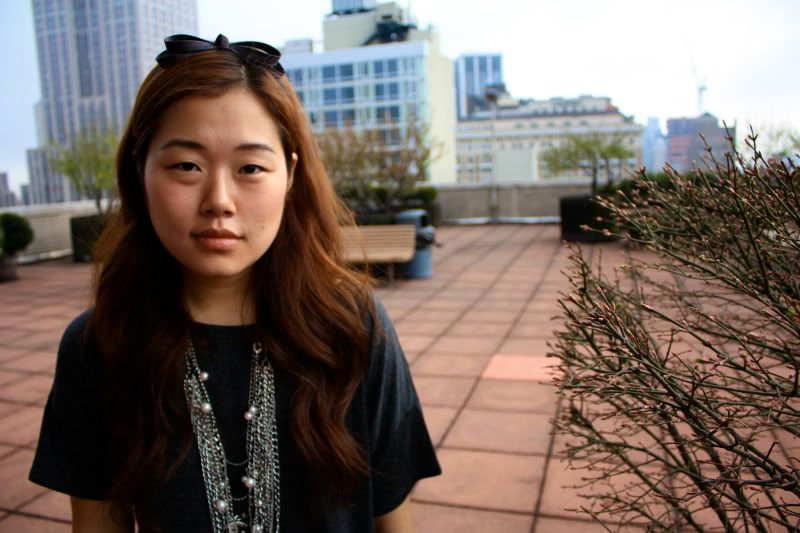 p.s. I've really been enjoying everyone's comments on their "best food ever!!' It's kind of like payback for all of the times I've made you guys hungry with my food photos... haha. Keep them coming! I'll decide sometime next week.
Have a great weekend everybody!!!!