I was asked by the super sweet Jenna from
the Supermelon
to do a style feature + mini interview and now it's up on their website!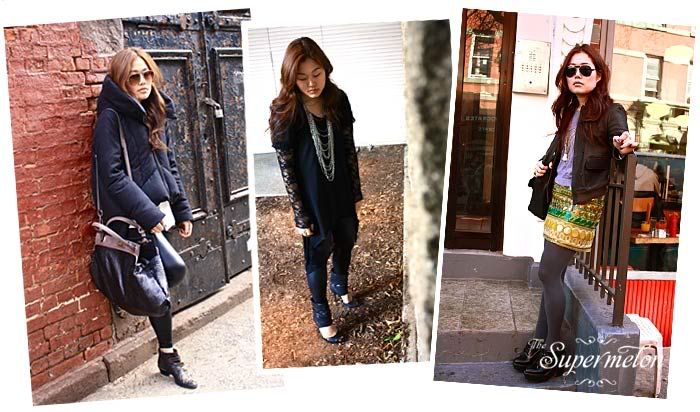 You might notice Gennie Yi wandering through New York City - taking in all its sights, style, lovely moments, and culinary delights. Gennie is an absolute pro at putting together outfits with doubling elements - like a tailored, menswear jacket with a feminine geometric skirt or delicate lace with hard-edged metal accessories. Her blog, Maison des Rêveries, deliciously captures the small pleasures that constitute a really delightful day. Her food photos are like tiny works of art - as compelling as her Alexander Wang pieces! Oh, and did we mention her DIY entries are genius and easy to replicate? Gennie's updates are at the top of our daily blog roll, and this this New Yorker is on her way to an explosive online cult following!



TSM: Tell us a bit about yourself! You are relatively new to the blogosphere. Why did you start a blog?


GY: I had been reading blogs for a few years, first food blogs and then fashion, but I found that there wasn't one existing, to my knowledge, that mixed these two amazing categories together in one spot! So I decided to start one of my own that would offer just that: fashion + food eye candy. The blog has turned out to be a really fun project because I get to share a little bit of myself with my readers through my post ramblings and showcase some of the delicious things I am privileged to eat.



Your style consists of many edgy-classic pieces, influenced by urban sophistication. How would you describe it?


I think my style has really been cultured and nurtured by living in New York City. Fashion and New York are best friends: a place where women sacrifice their feet to the shoe gods just to wear a pair of the latest skyscraper heels and no one will really look twice if you are dressed a bit over-the-top. My personal style mantra is "Wear what you like and don't apologize for it." Almost anything can work on a person if it's worn with the right attitude!



What are your most beloved items?


My most beloved items would have to be my vintage Chanel vintage Jumbo 2.55 bag and my Chloé Susan boots. If my apartment was burning down and I could only take two things, those would be it. The fact that my boyfriend bought both for me could also factor into that decision.



You frequently wear a lot of Chloé and Chanel. Which other designers do you admire? What pieces top your wishlist right now?


Other than Chloé and Chanel, I love brands with heritage like Yves Saint Laurent, Lanvin, and Balenciaga. I also am inspired by the recent re-incarnations of Givenchy and Balmain, and admire the avant-garde works of Rei Kawakubo for Comme des Garçons and Rick Owens.

In terms of my wishlist, I'm currently in the search for the perfect gladiator flats and am coveting the slouchy, slinky, amazingness that is the black Rick Owens leather vest.



You're a fan of foreign films. What are your favorite movies, old and new?


My favorite non-English films would definitely have to be Amélie (quirky and perfect) and The Lives of Others (poetic and powerful German film about East Berlin). Some other foreign films that I would recommend are classics like The Bicycle Thief (considered one of the best films ever made) and Children of Paradise (French).




Your photos often include delicious fare that you enjoy at restaurants. Do you dabble in culinary arts at all and does this extend to your kitchen?


I do enjoy cooking at home and try to do it at least several times a week. It's very difficult to do that though when there's just so much to choose from in terms of the ever-changing NY restaurant scene! Finding new places to eat is one of my favorite things to do because discovering a new great restaurant is like having an amazing first date: it's fresh, exciting, and ultimately satisfying. I like to think though that I can make a mean tuna niçoise salad and the best red velvet cupcakes you've ever tasted.

What are some of your favorite restaurants?

Favorite restaurants? Oh that could be a long long list… one of the best restaurants I have ever been to is Daniel, namesake restaurant of French chef Daniel Boulud. Everything about that place is impeccable: the food, the service, the ambience… and the wine list will blow the socks off of any oenophile. For Italian food, I'd recommend Il Mulino. It's insanely small, but wow… the food. For a special occasion for two, I'd recommend 57 at the Four Seasons New York for the ambience and the surprise celebratory treat they'll serve you at the end of your meal. I also like to eat at Nougatine, Mercer Kitchen, Pastis, Clinton Street Baking Co., and TeaNY.

Your uniquely re-constructed pieces have made you a DIY star! I loved the tutorial on how to add studs to a blazer, à la Balmain. Are you working on anything new?


Yes, I am working on a series of DIY posts that will feature how to revive your basics. Expect some new exciting things in the next few weeks!

What's your favorite fashion era and why?

When asked in an interview, "Who do you believe is the most timeless designer," one of my favorite people of all time, Karl Lagerfeld, simply responded, "Design should always be of its time." In the same interview, he was asked, "What is your fashion motto?" And he responded, "Long live the next collection." I think that I don't have a favorite fashion era because fashion is about re-invention, change, the present time, and how we can collect pieces of the past and present to create an aesthetic representation of the future. In my opinion, it's one of the most human aspects of the design world. I don't think my love for fashion will ever die because I like to think that I am a contemporary person so I like to always look to the now and nearby future.
I know that a few of you have expressed some interest in me doing a Q&A post so I hope this will suffice :) To see the the page on Supermelon:
click here!!