This weekend was really hot. I know I've been complaining so much about the weather here in New York and how I can't wait for it to get warm... but seriously, I feel like this weekend was 5 degrees too hot not just because of the actual temperature, but because of how many people were outside. The entire weekend, I felt like I was walking around
Disneyland
: crowds, lines, tourists walking around with cameras, babies holding balloons... I guess everyone was trying to get a head start on their tans? Anyway, because of the heat, the Texan in me felt right at home, but the New Yorker in me just wanted to complain. ha. It's what we do best :D
The boy and I walked to Madison Square Park with little Meeko so he could have a super fun play day at the dog park (i.e. perfect excuse for us to go pig out at
Shake Shack
). HA. In case you are planning to go to New York sometime soon, this is really a NYC institution. Where else can you get cheap but delicious hamburgers from a restaurant chain owned by Danny Meyer? Expect a queue though because this is a city all about hype and hype = crazy lineups.
I recently bought this grey t-shirt from Alexander Wang's T line and I really can't take it off. As badly as I would like, places like Forever21 can't reproduce the quality and cut of these higher-end basics. First the
boatneck dress
, now this grey shirt... I might end up having to buy a few more in some other colors to wear all summer long. It's kind of hard to wear anything other than plain basics when it gets really hot, no?
Outfit details: T by Alexander Wang shirt, Chloé Fall '08
runway skirt
Look 11, Chloé Odessa Python bag, Urban Outfitters hat.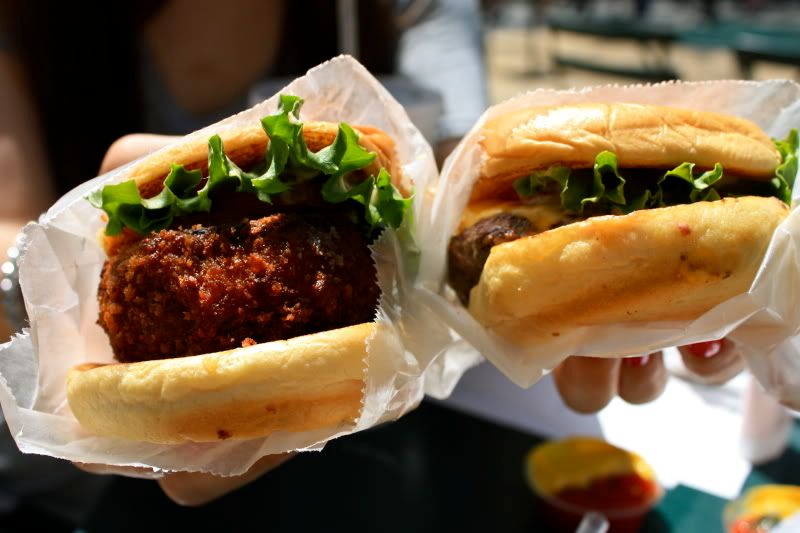 I had the vegetarian "shroom" burger (left): crisp-fried portobello filled with melted muenster and chedder cheese. topped with lettuce, tomato, and Shack sauce. The boy had the Shack burger (right): burger topped with american cheese, lettuce, tomato, and Shack sauce.
Ahh crispy french fries. My FAVORITE food group ;)
The Pooch-ini: vanilla custard, peanut butter, milk-bone treats. The doggie's gotta get some love too!
Digging into that treat like nobody's business