So today was finally THE day of the Topshop opening in Soho. Who would've thought that the words BROOME AND BROADWAY would be so deeply embedded into the very core of my cranium -- it's like they've branded these two street names broome + broadway to simply = TOPSHOP and nothing else. haha. god... So I'm sure a lot of you have already read lots about the opening already on other blogs and seen photos of the inside on sites like Refinery29 (if not click
here
). 
Just a quick recap on what happened from my little ol' point of view: The line was really long before the store opened but time flew by really quickly because a lot was going on including free Pinkberry passed out by employees from a nearby Pinkberry, donut holes being passed out by Madewell (next door to Topshop), Topshop employees passing out free cookies, water, tote bags, more giftcards, Sir Phillip Green walking around talking to people, millions of photographers and media filming, people walking around with their Flips taking video clips, a full-out stage with an obnoxious british lady making announcements, Kate Moss making a 10 second appearance on stage and the crowd chanting her name, random tourists asking wth is going on, rumors of an H&M spy passing out secret fliers to lure people back over to H&M, security guards flirting with women in line, everyone and their mom dressed to the nines, so many Canon 1Ds my eyes almost fell out...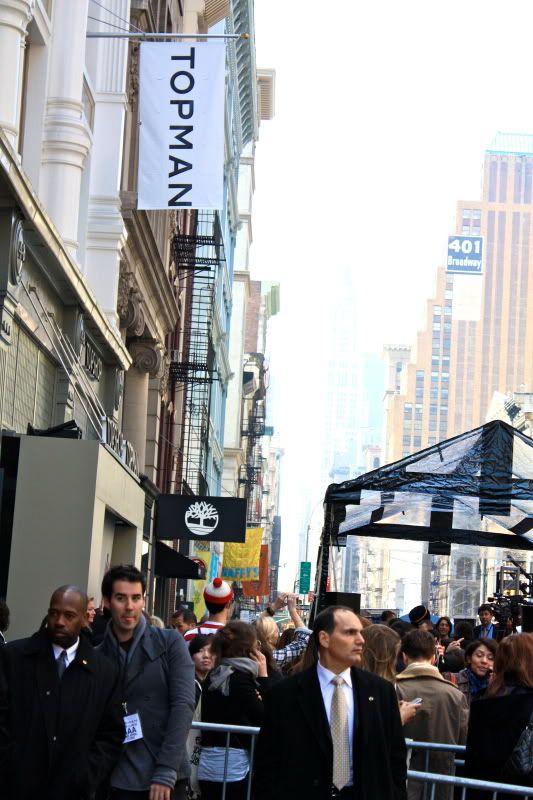 Where's Waldo?!?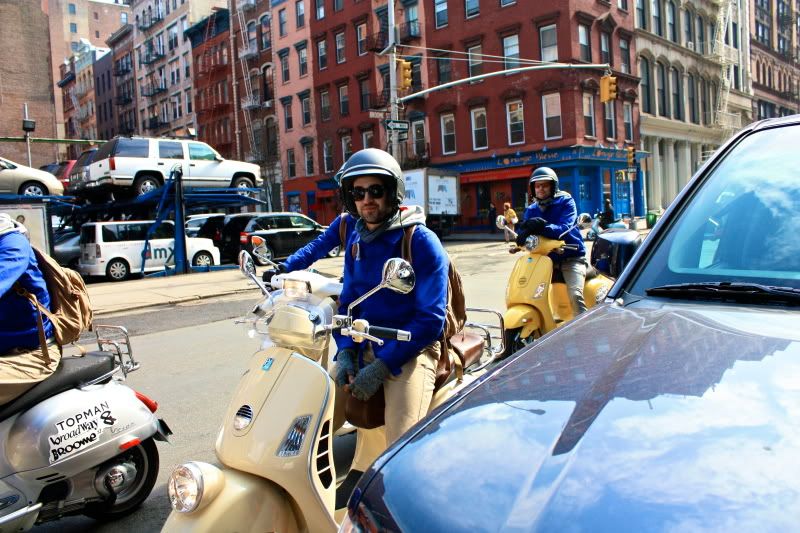 TOPMAN biker gang lol!! They thought they were soooo cool on their vespas. (secretly jealous of their vespas lol)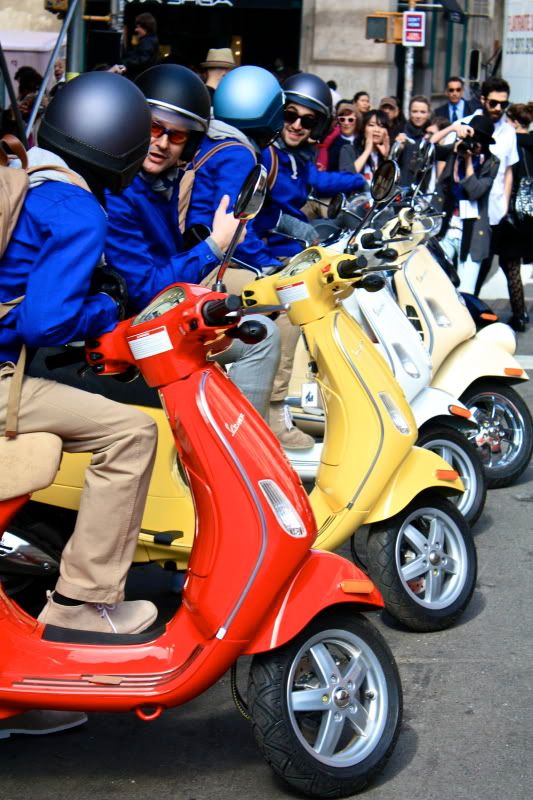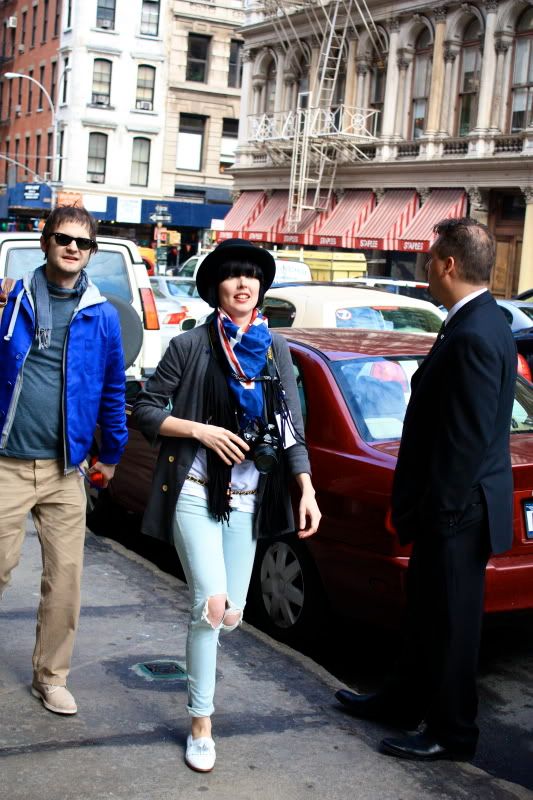 Super cute uniform of all the Topshop lady employees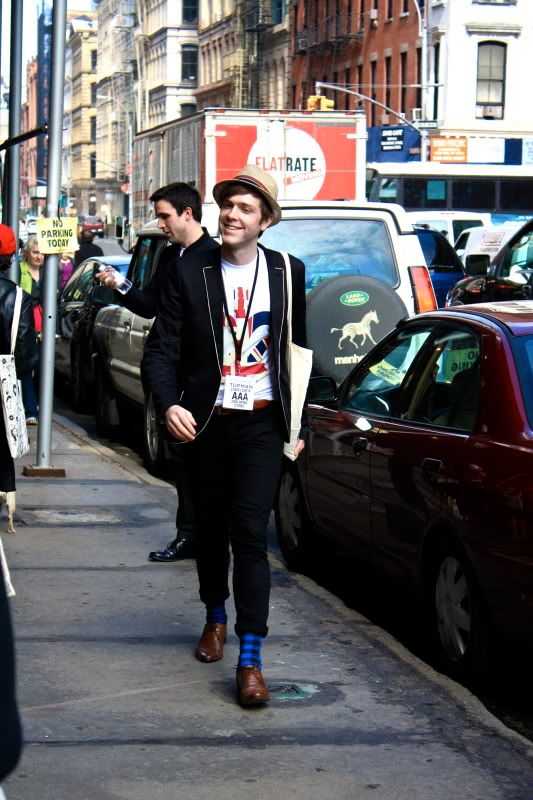 Equally cute uniform of Topshop boy employees. NICE SOCKS!!!!
Pinkberry passing out their propaganda. Pinkberry = thumbs way way down.
Red Mango
= TWO THUMBS UP!!! It was way too early in the day to be eating frozen yogurt and donut holes btw.  
Standing in line all revved up to go shopping! I couldn't take photos inside the store because cameras weren't allowed, but my overall impression of the store was that it's huge (4 floors), they have a lot of cute things at decent prices (yes, more expensive than H&M but the quality seems to be quite a bit better), but a lot of it I wouldn't go near because it's a bit too... neon? heh. Ooh and a special online "hi!!" to my lovely reader Lauren that I ran into in the store!
Outfit details: See by Chloé cardigan, Sarong worn as scarf from the some random beach vendor in the Bahamas, Urban Outfitters romper, Chloé susans, Chanel bag
The best thing I bought today: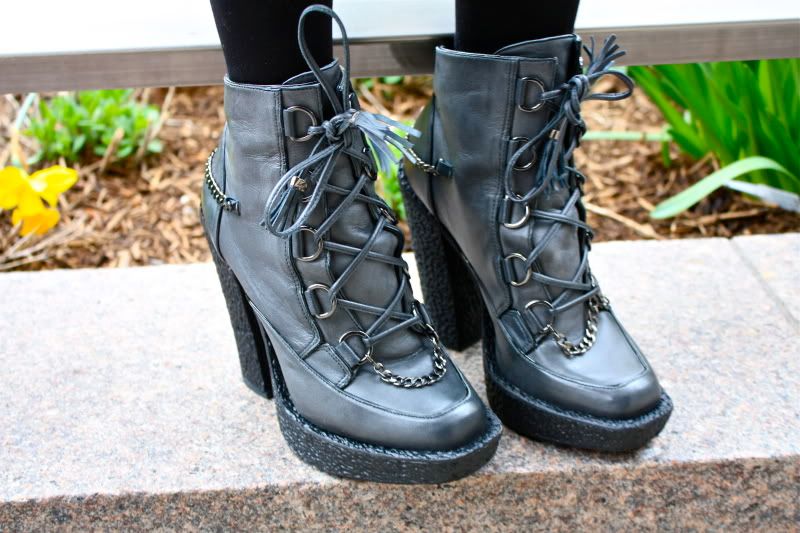 Emma Cook for Topshop booties in grey!!!! I didn't even know they came in grey!!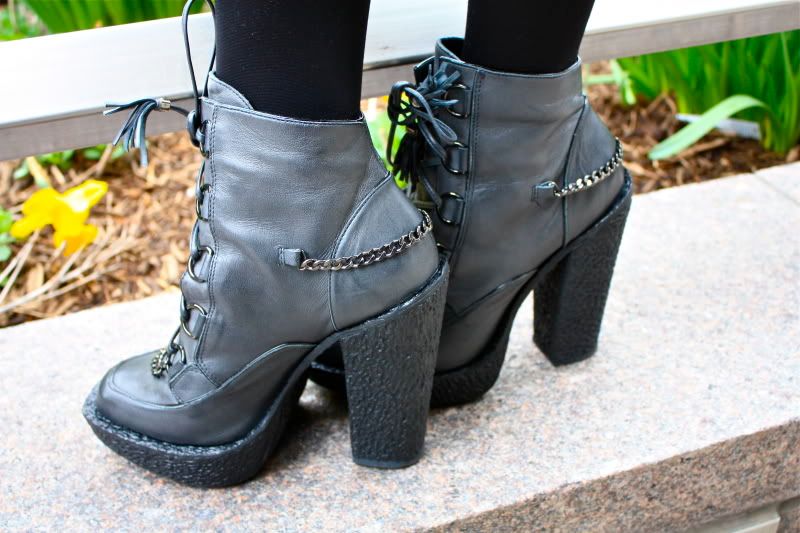 I've been eyeing these shoes for quite some time but never really thought I was going to buy them until I saw them today in this color. Peach and white are both so cute but not very practical for me... and I already have way too many black shoes so the grey was a great excuse to buy a new pair of ankle boots! haha. I changed into them later on in the day and walked around the city for several hours in them. They are surprisingly comfortable, considering it was the first runaround! Definitely a good buy.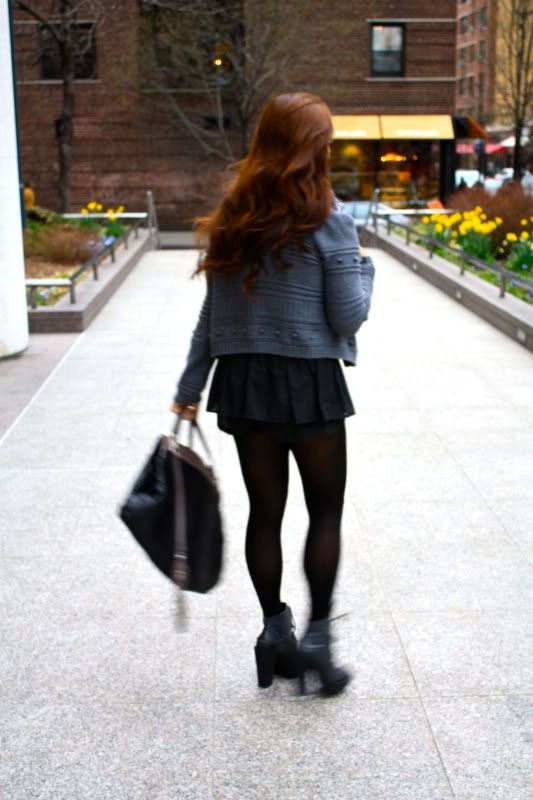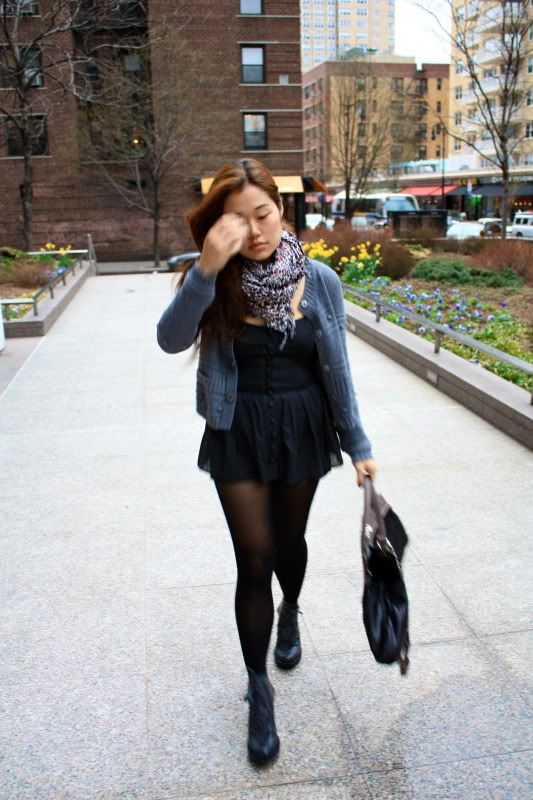 The bf and I enjoyed some quality time at happy hour at an East Village bar after he got off of work, and all that beer left us jonesin for some good old-fashioned ice cream.
10th and 3rd ave. A cute ice cream shop that sells a variety of traditional ice cream flavors + surprising Asian flavors such as Taro, Black Sesame and Wasabi. Their ice cream has a really interesting consistency, very different from the expected creaminess of most American ice cream parlors. Their ice cream is creamy too, but somehow very sticky at the same time -- if that's possible.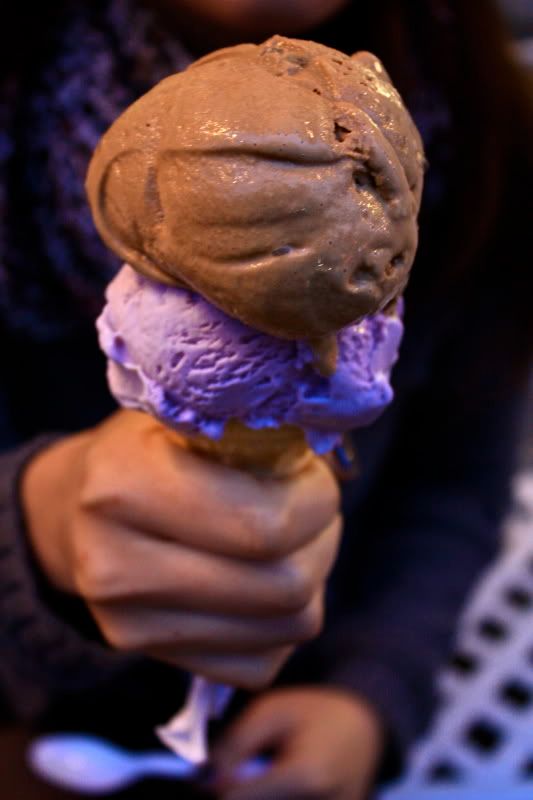 Mocha chip + taro on a wafer cone. Kind of an unexpected combo but was actually really really good. The mocha made the taro taste like toasted marshmallows. You can never really go wrong with
toasted marshmallows
in my book!
** Because I know a lot of you don't live in NY and missed out on some of the Topshop fun, I'll bring a bit of the fun to you!! Tell me what the best thing you ever ate was: what, where and why. I'll pick the top saliva-inducing story and I'll send you my Topshop totebag from
previous post
+ a free Topshop men's graphic tee that I got today. I'll ship anywhere :)