On another beautiful day in California, the boy took me to Disneyland, aka "the happiest place on earth". Okay Disney, I get that it's your advertising/branding ploy to get people to come here to make sweet sweet memories but HAPPIEST place on earth? That is a prettttty big claim you're staking. Especially when it seems that most of the people there are super grumpy, either because they are little children who are a). spoiled out of their minds b). tired c). sick of waiting in line OR they are parents who are a). tired of their kids whining b). sick of waiting in line c). pissed to have to pay $3.50 for a bottle of water.
I'm all about the analogies to help describe things so, to me, Disneyland is kind of like a double chocolate chip brownie sundae on espresso and chocolate gelato with fudge drizzle, caramelized pecan bits, topped with chocolate mousse whip. Mmmmm saliva-inducing yes? Can you actually take more than two bites? Probably not...
Sleeping Beauty's castle! Aurora was always my favorite princess since I was a little girl. Belle almost knocked her out of that top spot with her sick yellow dress but... Aurora has little animal friends. Belle has clocks. Animal friends > clocks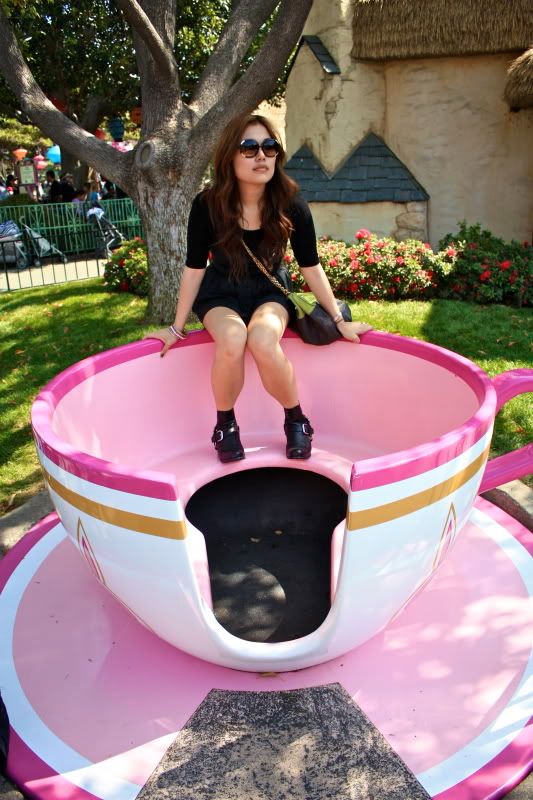 Outfit details: Urban Outfitters romper, Miu Miu ankle boots, Chloé Boudoir bag, Chloé sunglasses.
Not as cool as the
real horses
that I met the week prior but... still pretty fun!
My favorite Disney character of ALL time is Pooh bear. Everything about Pooh is cute -- from his round belly to his fingerless paws that he shoves into "hunney" pots and slathers all over his face. Bears are the CUTEST, second only to puppies.
Yes this is my favorite ride. Don't hate. HAHA. I don't do rides like Splash Mountain, Matterhorn, Space Mountain. mmmm no. I don't ever want to scream out of fear of impending/possible doom. no no no no no.
Wanna ride in my bee hive?? Look at that grill -- gangsta lol.
Saw Pooh in REAL LIFE!! haha. Yes I am really that happy to see him.. can't even wipe that slappy grin off my face.
Disney candied apples.
Gobbled this thing up in 1 minute flat.
All the Pooh-ness made the day! We did have a lot of fun despite the negative nancy intro to this post. So a big thanks to the bf for indulging my inner-child :)