I went to a luxury fashion conference today at Columbia University where I heard a few President/CEOs of companies such as Chanel and Hermés talk about their take on the luxury industry today and their strategy for getting through this tough economic recession. I think overall, the consensus was that they have to deliver a consistent message to their customers and invest more in one-on-one marketing ventures to reach and keep their top clientele (aka the ones who still have $$). Before I went, I stopped by Bryant Park to grab a bite to eat and people watch :D
I wore:
Chloé floral tights from Fall 2008 and feuilles booties.
Huge silver ring that the bf calls "the killer".
Forever 21 jacket and H&M corset top.
Running around on the roof.
One of my favorite Chloé skirts of all time!!
I ended up changing my jacket before I headed out because of the frigidity factor. So so so sick of the cold x 100000.
This is one of my favorite Chloé jackets of all time too. I only take it out once in a while for fear of crystals falling off :(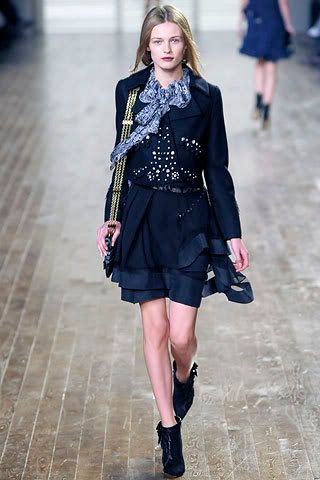 credit: style.com
Look familiar?? hehe. I know I know.. not very creative BUT what are you gonna do.. It's unavoidable once you've worked somewhere for so long...