So a while back, I spotted this Balmain leather studded lapel blazer and I had a minor heart palpitation.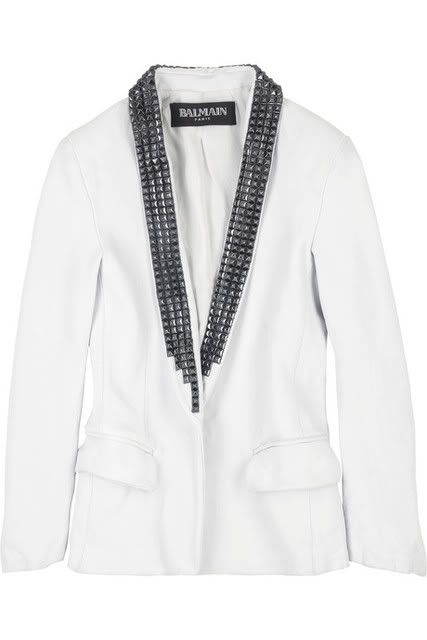 Simple, chic, perfection. But at a $4200 price tag... I think not. If YOU by chance do have the benjaminzz to purchase this leather hotness, you can buy it at Luisaviaroma.
Balmain Studded Leather Blazer
Anyway, I became fueled with desire to have something that even somewhat resembled this blazer and decided to go at it with some studs of my own and a cheapie blazer. Here's a play by play:
What you'll need if you would like a studded lapel blazer of your own (and look super cool hehe).
Simple boyfriend blazer. Mine is from H&M. This is not the time to break out the big guns because you are poking irreparable holes into this fabric.
Pyramid studs. I used 1/2" ones. You will need 200+ AT LEAST depending on the width of your lapel.
A pair of jewelry pliers to bend the backs of the studs. PLEASE don't try to do it with your fingers because you will be bleedin' all over your beautiful masterpiece by the end.
Keep studding along in rows and follow the width of the lapel to determine how many studs you can fit on that row. Try to keep them as close to one another as possible.
The difficult thing is to keep the studs straight. I found one trick that helps is to look at the back of the lapel and make sure all of the metal prongs are creating one straight line like so in the picture.
In case you were wondering, I started off at the middle of one lapel, went all the way down, and then went all the way around the neck towards the other side. Why I did this who knows but it ended up working great and both sides ended up being even :)
Finished result:
I'm wearing the blazer with a H&M corset top, See by Chloé black studded mini, and Zara thigh-highs.
This kinda thing has to be worn hair up because the back of the lapel looks siiiiick.
All in all, the whole process was worth it. My palms seem to be permanently bruised and I would advise not getting a manicure while you're doing this because that shizz will chip off left and right.
Please feel free to ask questions about the whole process!