I've recently been daydreaming about what I will be wearing come spring, despite the sudden cold weather we've been experiencing again in New York (how cruel that short warm spell turned out to be now that it's windy and cold). But in TWO short weeks I will be off to sunny and warm Orange County and will be able to wear whatever my heart desires without even thinking of layering.
Every season I like to buy myself one goodie that's not on markdown... and I believe I have found it egads. I couldn't stop shrieking to the bf once I saw these bad bunnies... Sigh. LOVE AT FIRST SIGHT. They're like the
Chloé multi-strap sandals
I've been eyeing from Pre-Spring except on STEROIDS. By steroids I mean the Chloe Sevigny ones could own the Chloé ones in a samurai showdown. Funny how they're both made by "Chloes".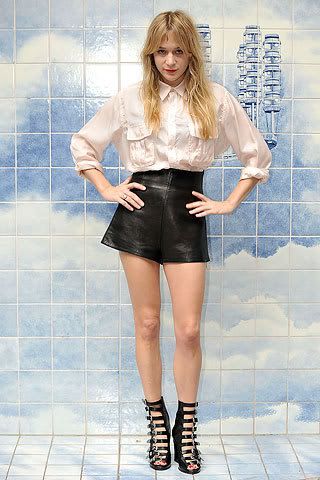 Source: Style.com, Refinery29
In other news, like I said in my previous post, Intermix is having their bi-annual warehouse sale starting this Thursday. Here are the details in case any of you will be in town! It's pretty good despite the strange pricing. Fair warning for those who've never been: come dressed in a leotard of some sort if you want to try things on, the dressing room is a huge makeshift curtained off area and there are many x1000 men walking around due to high security + weird pervos.
I will be doing a proper outfit post tomorrow and debuting a DIY project!!
Goodnight for now :)