The boy and I have made several trips over to Los Angeles this time around to California, despite the 1hr+ daunting drive that comes along with the package. I don't know if it's the recession or what, but the traffic here doesn't seem that bad anymore. No one's gots the moneys to go out driving I guess -- carpooling it? Maybe that's a good thing -- my pretties you should be doing that anyways for mama earth ;)
A few days ago, we spent the entire day just walking around LA, exploring different random shops that I've heard of, have been meaning to go to, or wanted to go back to, with eating and all that good stuff mixed in between.
Had lunch upon arrival at Joan's on 3rd after hearing it was a good spot for sidewalk lounging. What can I say -- I am a lounging kinda gal.
About to demolish this tower of chocolate marshmallow on a cupcake.
decapitated
We kind of parked at one lot on La Cienaga and walked EVERYWHERE. I am completely accustomed to walking inordinate amounts because after years of getting owned by the sidewalks/cobblestone walking around in heels in Manhattan, my legs and feet can take it. Strange though how nobody really walks a lot in other cities in the states, but on this excursion, I discovered that's because of how other cities are laid out -- not pedestrian friendly!! You have to wait like 5 minutes at a stoplight to CROSS the street. AGGGH the impatient new yorker in me was about to just hurtle my body into the oncoming traffic and make the cars wait. Sigh. Kidding.
On my way to Opening Ceremony. Kind of in the middle of NO WHERE. But really awesome nevertheless. One of you guys told me to check it out because it was so much bigger than the one in New York -- ummmm that was an understatement! The one in LA is HUUUUGE. I am forever jealous. And while I was there, I saw Whitney Port and Selma Blair shopping within a ten minute time span. Hmm I guess there really are a lot more celebs on the West Coast.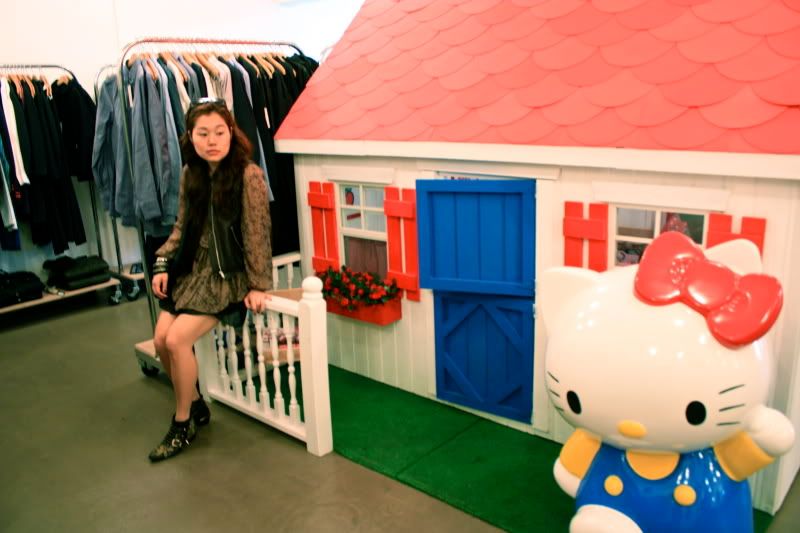 Meeko's future house. Don't worry little meeko, mama will be buying you a mansion like this one day.
Outside of Maxfield. What an ominous entrance this place. The assortment here literally looks like what I speculate MK Olsen's closet to encompass. Overall, not really my kind of store but was every bit what I expected! People take themselves a bit too seriously at a place like this... Shouldn't luxury just be inviting and comfortable? What's the point otherwise?