Before I leave for California tomorrow, I thought it would be a good time to share with you a "food porn" post carried over from my little sister's visit. Many apologies to all who may leave my site a bit hungrier than they were before they made their virtual trip over to my little blog... good food is seriously one of the major loves of my life as I'm sure you can tell. I like it almost as much as I like a good pair of shoes. ALMOST.
So here it is, my favorite brunch place in New York:
Pastis
. Located in the meatpacking district on Ninth ave, it's a sister restaurant to Balthazar's in Soho, but a much better version. Somehow the food is so much better, not as pretentious a crowd -- a Keith McNally masterpiece. I go here really often so if you'd like to bump into me on a Sunday morning... lol.
Now if only I had some major bank to start my own serious of fab french bistros...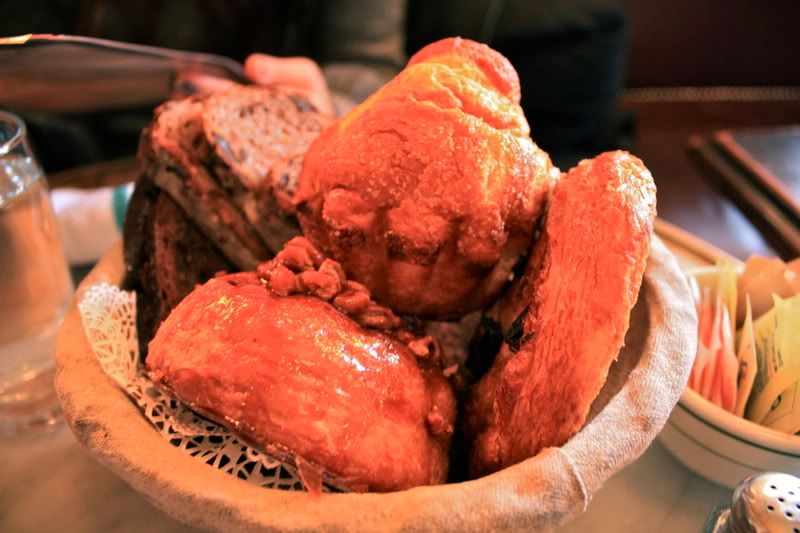 Le Panier = bread from Balthazar's bakery: brioche, sticky bun, raisin bread, chocolate bread, multi-grain nuts and seeds bread
Brioche French Toast
Open-faced croque monsieur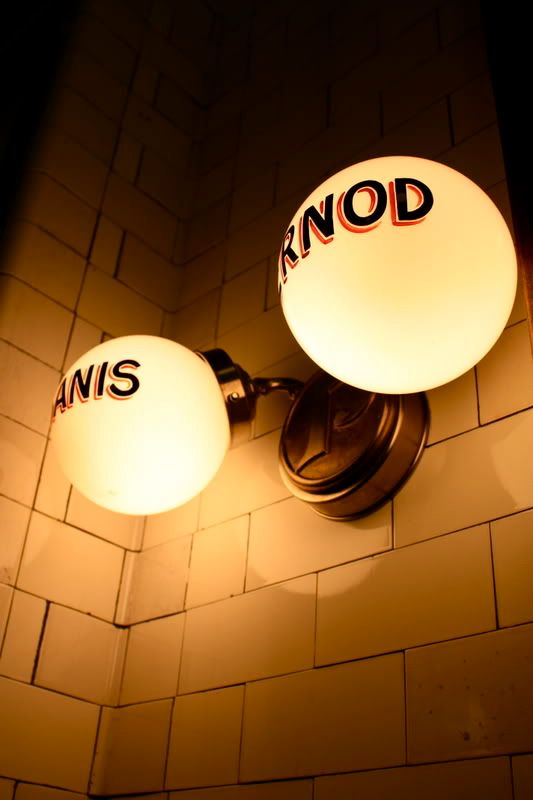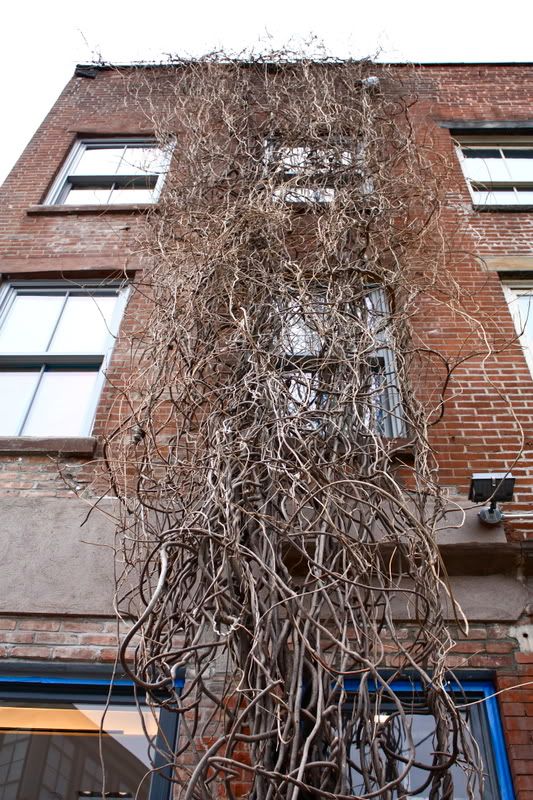 Also wanted to say, congratulations to my lovely reader from Singapore who won the latex legging giveaway. Here's her favorite quote in case you are interested:

"The way we get to live forever is through memories stored in the hearts and souls of those whose lives we touch. That's our soul print. It's our comfort, our emotional nourishment at the end of the day and the end of a life. How wonderful that they are called up at will and savored randomly. It seems to me we should spend our lives in a conscious state of creating these meaningful moments that live on. Memories matter."
- Leeza Gibbons
Thanks to everyone who participated!! It was so much fun reading them at random spurts over the course of this past week. Please don't be disappointed -- This may have been the first giveaway but I promise it certainly won't be the last!!
Here are some of my own favorite quotes:
"I'm mad for books. It is a disease I won't recover from. They are the tragedy of my life. I want to learn about everything. I want to know everything, but I'm not an intellectual, and I don't like their company. I'm the most superficial man on Earth."
- The Kaiser, Karl Lagerfeld
"The worst thing is when friends say, 'Remember the good old days?' Forget about the good old days!! That just makes your present secondhand. What is interesting is now. If you think it was better before, then you might as well commit suicide immediately."
- The Kaiser, Karl Lagerfeld
Ahhhh Karl. How you make me laugh like no one ever could.
"No one on the corner got a bop like this, can't wear skinny jeans 'cause my knots don't fit. No one on the corner got a pocket like this, So I rock Roc' jeans 'cause my knots so thick. You can learn how to dress just by checkin' my fresh."
- HOVA, Sean Carter
(major points to you if you knew where this is from without having to google :D )
Oh, and I will be off to Orange County/LA/San Diego tomorrow morning -- would love any recommendations on where I should go to shop, eat, and play (i.e. burn through my dollah dollah billzzz) if any of you are from the area!!