I know that there are certain areas of Manhattan that are notoriously jam-packed with tourists doing their shopping. The 50s and 5th avenue for touristy luxury stores (Saks, Rockefeller Plaza, Bendels), Chinatown for knockoffs, and Broadway/Prince for tourists visiting shops in Soho like the Prada store and Intermix. I try to avoid Broadway in Soho at all costs -- I really don't like the pushing and shoving involved to simply try and walk down the street. But venture just a few blocks lower in Soho and you'll find that the streets are much quieter and are lined with a few really high-quality shops.
One of my favorite shops in the city is located on Greene street,
Kirna Zabete
. I know that it's not one of the most highly publicized shops in Manhattan, but the selection there is quite exquisite and I always leave there lusting after some amazing Balenciaga piece or Pierre Hardy shoe. What I like best about it is that there's no snobbery at all -- they're genuinely nice and happy to help, a rare find in retail these days. I had the pleasure of seeing the owners, Beth Buccini and Sarah Easley, a few times during market week, and if any of you read street style blogs (i.e. Sartorialist/Jak&jil) they're always snapped during Paris fashion week.
This is one of their cute fitting rooms -- me eyeing some Stella McCartney blouses hanging on the mirror.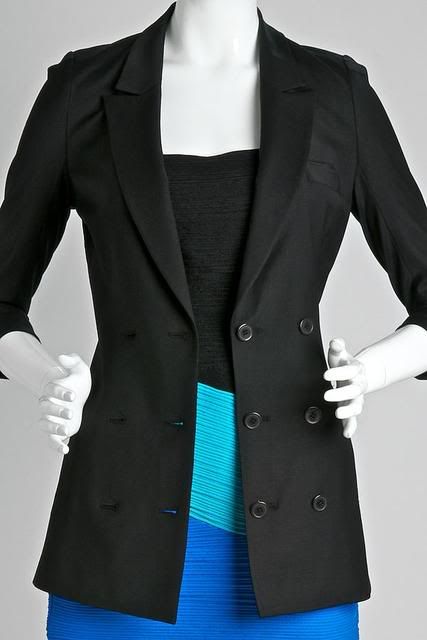 I ended up trying on this
Alex.Wang blazer
and was left a little unimpressed -- maybe after my little studded blazer turned out so well I think it doesn't warrant the $625 price tag.
I also tried on this
Alex.Wang bag
and totally loved it. $725? Hm......
Sigh.. this one though really topped the cake. Ahhhh
The Rick Owens
. I know that the price tag is a bit crazy but... it's just so beautiful. It's kind of like a 2.55 Chanel, a classic that I will wear forever? Haha. That's how I always rationalize my purchases -- it'll last me forever!!
Hmmmm I'd even consider trading in one of my pythons for this bad boy... Please Kirna? Barter old school style? :D
Well for about a third of the price of that Rick Owens jacket, one could buy these sick
Pierre Hardy
sandals. Sigh... I need to make some new shelving units to make room for some good summer sandals. The leather jacket + Alex.Wang bag/bandage dress + Pierre Hardy Shoes would make one siiiiiick outfit no? Haha. A girl can dream.
Well after shopping all day, we certainly worked up an appetite and I took my sister for a quick dinner at Dos Caminos on West Broadway and Houston. By quick, I mean we were there for like 30 minutes in-n-out. Lol. For any of you over 21, the margaritas at this place pack a punch -- my kind of drink ;)
Spicy guacamole
Pescado Tacos